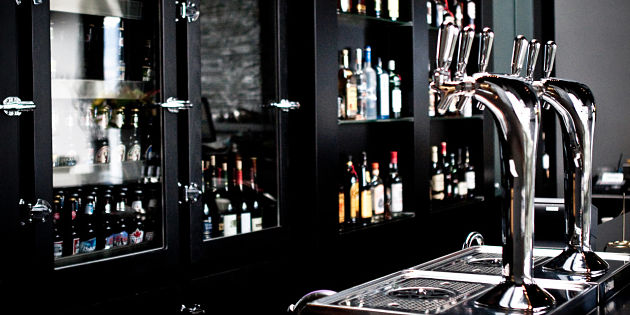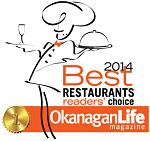 The perfect wine bar features a wide selection of wines available by the glass and offers up an intimate bar-front stool. In the Okanagan, you'll find the top wine bars situated inside some of the Valley's best restaurants.
In the North Okanagan, readers' choice goes to Crush Bistro and Intermezzo. Crush offers up wine tastings every second Wednesday, where you can find your new favorite wine, extend your knowledge and chat with the winemaker.
Upcoming wine tastings at Crush Bistro:
June 18 - Sandhill Winery
July 2 - Kalala Winery
July 16 - Upper Bench
July 30 - Bench 1775
In Kelowna, Waterfront Wines impressive cellar and upscale decor earned them the top spot, followed by Old Vines at Quails' Gate Winery and RauDZ Regional Table.
A popular spot in Downtown Kelowna, RauDZ Regional Table not only serves a wide selection of Okanagan varietals, but use fresh, local and seasonal ingredients in their cocktail creations. House made fruit purees, freshly harvested lavender, thyme, and mint is crafted into delicious and award winning cocktails by their talented mixologists.
Further south, Okanagan Life readers chose waterfront locations Bufflehead Pasta & Tapas Room in Penticton and Local Lounge-Grille in Summerland. Taking third place is The Patio at Nk'Mip Cellars.
Local offers a Wednesday's wine special BC Wines featured at 20% off regular menu price and a three course Prix Fixe dinner menu available for $28. Don't miss Nk'Mip long table dinners offer on The Patio Friday and Saturday nights throughout July and August.
North Okanagan
Best Wine Bar 1 | Best Lunch 2 | Best European 2 | Best Casual Dining/Bistro 2 | Best Tapas 2 | Best Italian 3
Central Okanagan
South Okanagan
Photos courtesy of the restaurants, from the top: Local Lounge-Grille in Summerland, Waterfront Wines in Kelowna, Bufflehead Pasta & Tapas Room in Penticton

[fbcomments]