Kot Auto Group
The Kelowna Hyundai team and parent company, Kot Auto Group, just got busier with the addition of two franchises: Penticton Nissan and Genesis Kelowna.
Penticton Nissan
Opening its doors March 1, the new Penticton Nissan dealership was built on the Penticton Indian Band lands of Satikw Crossing.
"Bringing Nissan to the South Okanagan was a long process that started in spring of 2016 and we're finally on the last lap," says president John Kot. "It's exciting watching both the team and construction develop to where we are at today. The support of the Indian Band plus Penticton and surrounding area has been enormous and we expect great things." PentictonNissan.com
---
As seen in
Our Progress 2018 issue features Okanagan business profiles. On the cover (and inside): Kelsey Serwa celebrating her Olympic gold medal.
---
Genesis Kelowna
In Kelowna, the Kot Auto Group is the new distributor of Genesis, an up-and-coming luxury brand. Currently offering sedans brands G70, G80, and G90, three additional models will be added to the Genesis lineup?—?including two SUVs and a sports car?—?in 2020. Each Genesis car includes all of the technology and premium comfort expected in a luxury brand, but with a worry-free ownership experience, offing complimentary schedule maintenance and at-home service, where the dealership picks up the vehicle and delivers it back to your home.
"Genesis' approach will literally change the landscape of luxury buying in Canada," says Jayson Gazloff, a Genesis experience manager.
The shopping experience begins with a Genesis experience manager bringing the car to your home to begin your test drive. After choosing colours and specifications online, your new Genesis can be delivered to your home in just 10 days. GenesisKelowna.ca
Kelowna Hyundai
Kelowna Hyundai recently celebrated its fifth Presidents Award in over six years. The 2017 Award presented by Hyundai Canada honours the top dealerships in Canada based on new vehicle marketshare, certified pre-owned used volume, customer satisfaction and service satisfaction.
When general manager Sam Ghessesow was asked what his secret, he replied, "The answer is easy. It's teamwork, where everyone's works towards the common goal of one thing: making customers happy." Sam joined the team in 2014 after working for a large dealer group in Edmonton. He and John go way back, as Sam started on the sales floor for John over 18 years ago.
Kelowna Hyundai has been moving cars like hotcakes and expect a huge year with the new addition of the all-new KONA SUV and the totally redesigned 2019 Santa Fe coming out this fall. KelownaHyundai.com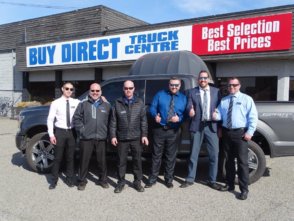 Buy Direct Truck Centre
Sam also oversees The Buy Direct Truck Centre on Carey Road in Kelowna, which boasts the largest used inventory in the Okanagan with over 200 used vehicles in stock at all times.
Scott Muir, general sales manager and a recent transfer from the Maple Ridge dealership, specializes in finding a home for every car regardless if it's under two thousand dollar car for a first-time driver or a heavy-duty truck for a construction worker.
"With a big dealer group, we can find any used vehicle within 72 hours for our customers," he says. "That a special service that not everyone can provide. BuyDirectTruckCentre.?com
The Kot Auto Group is a family-owned business with son Jordan and daughter Janessa in management positions, while the eldest Brandon is learning the ropes in at a large Chrysler store in Vancouver.
John Kot started selling cars in Weyburn, SK, at the age of 18 years during the offseason of farming. "I was a better car salesperson than a farmer and I figured that out at a early age and took it from there. It's fun to have my family involved in the car business. Trina's always helped me behind the scene on the decision making but I really enjoy working with my kids and seeing them grow in the business."
John's youngest son Logan (9) isn't sure where his future is headed yet.
PROMOTION
Published annually, Okanagan Life Progress presents
Okanagan Valley business stories told by the people behind them.
For advertising details, see Spotlight on Okanagan Business.