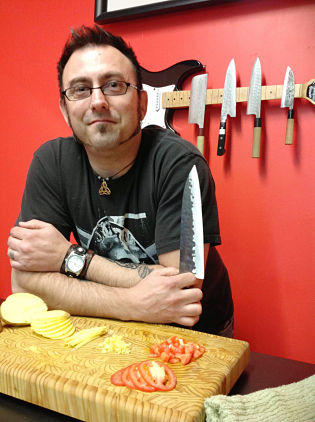 Canada's awesomest knife shop, Knifewear has become a destination/hang-out for those who love Japanese steel and are addicted to sharp. Most of the knives can't be found in any other shop in Canada.
The Kelowna shop in South Pandosy also carries some of the hottest food magazines and cookbooks, sharpening stones and supplies, and a great selection of Classic shaving gear, straight and safety razors, brushes, and shaving products.
"We like exclusive, scary sharp, high performance blades, and we love high-end performance and down-to-earth, non-elitist, excellent service, " say manager Mark Puttick.
"Knifewear is a shop that we want to shop at. We play our music a little too loud and have guitars on our walls, and the best knives you will ever use," he adds.
"Let us hand-sharpen your knives."
Supporting Growing Chefs
Knifewear is a proud supporter of Growing Chefs (growingchefs.ca), a program that teaches kids in schools about food. Professional chefs volunteer their time,  helping the students plant fast-growing indoor windowsill gardens and follow-up with lessons on plant growth, vegetable exploration, local and urban agriculture, sustainability and nutrition. At the end of the project, the students harvest their vegetables, and the chefs teach them to prepare a delicious meal with what they have grown.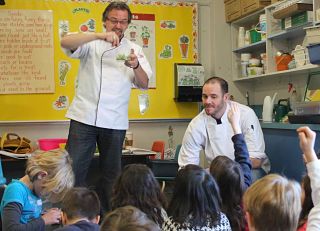 "Growing Chefs is more than teaching kids about urban agriculture; it's about inspiring our next generation where our food comes from," says Kelowna chef Rod Butters, of RauDZ Regional Table. "My own Grade 3 teacher inspired me as a kid by growing and cooking bean sprouts. Being involved with Growing Chefs is like coming full circle teaching our local children the same principles."
Last year, Growing Chefs worked with two Grade 3 classes at A.S. Matheson Elementary in Kelowna.
Visit Knifewear
Drop by the Kelowna location at 2983 Pandosy Street or visit Kifewear online at knifewear.com