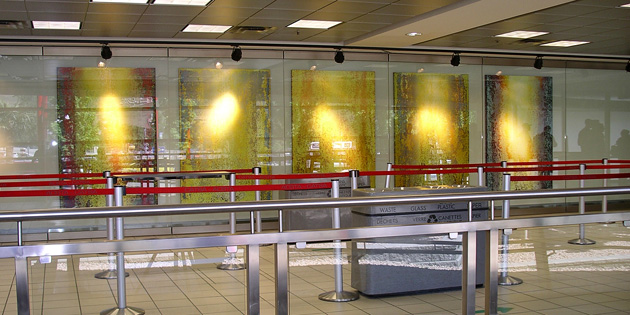 Kelowna Airport abstraction
If you need to go through the Kelowna airport in the next few months, leave a little extra time for the trip. If security is backed up, don't fret, there's something there to lighten your spirits. An oasis in our ever-growing terminal, a spot saved to feed the souls of anxious travellers with a departing dose of local art. In the area leading up to security check-in is a 12-metre wall that features collections by artists from the Okanagan, a different one every six months. It's a satellite gallery run and curated by the Kelowna Art Gallery. The newest installment is an incredible series of full colour and light called Okanagan Sunshine.
"I want to go beyond the conditioned way of seeing. The basic idea… is to see like a baby again."
Heidi Thompson, the creator of Okanagan Sunshine, is an artist from Coldstream who shows her work all over the world. She's currently focused on colour field painting, a form of abstract painting characterized by large fields of colour that began mid-20th century and was popularized by artists like Mark Rothko. Okanagan Sunshine is a series of large scale paintings illuminated with vibrant acrylics.
Heidi invites me to her studio to see the pieces before they're hung. She lives on a lush forested acreage in a home she shares with her husband, guitar maker Ted Thompson. Heidi spends a lot of time in nature and through deep observation and meditation she has attuned her senses to take in the world around her in a pure and present way.
Instead of painting the shape of an object she paints her "sense" of it. It takes talent to paint what you see, but it takes a certain gift to paint what you sense. Says Heidi "I was thinking, well, how can I recreate nature without it looking like a sky or a sunset or trees?… in other words how to distill what nature's giving us and using that in painting. I bypass the intellectual idea, because I find that limiting, you're conditioned to see those things, so I want to go beyond the conditioned way of seeing and see like a baby, the basic idea of what I'm painting is to see like a baby again."
Turns out when you can see like a baby and paint like a master the results are mind blowing. I enter the studio and pause to take it all in. Ripples of colour and texture lay thick across a row of canvases, each painting wild and alive as if they were giant thumbprints left by a divine hand after dabbing juicy sunsets across the sky. Heidi paints deep, rich layers, lets them partially dry, then sprays the piece with a garden hose in the yard by the studio. The water carves little canyons and blasts the paint into flumes of organic shapes. The result is fantastic, like a patina on a boat in the Caribbean or the bark of a technicolour tree. So why does it make sense to hang paintings like these, which are worthy of a private gallery, in a bustling airport instead?
I call the Kelowna Art Gallery and talk to curator Liz Wylie about their relationship with the airport. The gallery has been featuring artists in what's known as the "well-wishing area" since the expansion in 2008.
"To us it's very valuable, we know contemporary art only appeals to a small number of people, this way we get to have it in a public area, they might not know anything about it but they can take as little or as much time as they want to notice it," she says. "It's also a huge thrill for the artist to have a space like that. They get to have that big long 40 foot wall, not everyone can handle that, you've got to hit it right. It fits perfectly in keeping with our mandate, which is to promote and foster the appreciation of contemporary art in the Okanagan."
The relationship between the airport and the gallery is genius. Our Okanagan artists are some of the best in the world and their work belongs on the path of those who are passing through. If we struggle to bring people to the galleries, we need to bring the gallery to them, and what better way than to hang great art along the corridor that connects our community with the ones beyond?
There's a quote that says, "Wherever you go, no matter the weather, always take your own sunshine." For the next six months, you may have to leave behind your liquids and dangerous goods before departing the Valley, but you're invited to pack a heart full of art and a healthy dose of Okanagan Sunshine.
As seen in:
[downloads ids="135707″ columns="1″]