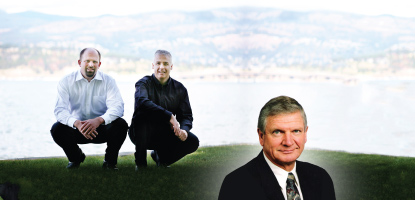 As one of the most highly respected insurance and investment planning firms in BC, the Peacock Sheridan Group (PSG) is very excited to have Rusty Bracken and his clients join the team. Rusty's primary goal when looking to become part of an advisory firm was to find a team that would look after his clients, understand their goals and their priorities.
At the Peacock Sheridan Group we have extensive experience in working with business owners, professionals and high net worth families as we devote the majority of our expertise and resources to the unique needs of these groups. As a result, we have built a growing reputation for delivering high-level individualized planning strategies for our clients. This value-based commitment has made us one of the most trusted and respected planning firms in the Okanagan Valley.
Founders Brent Peacock and Grant Sheridan and the entire PSG team believe in understanding their clients first. Knowing the client's current situation?—?family, business and financial?—?is key to providing solutions and advice that stand the test of time.
Rusty wanted to ensure that he was aligning himself with advisors that would continue to develop their advisory skills and who would bring unique and innovative services and solutions to his clients.
Using our MAPP (Master Alignment Planning Process) approach, we help our client's to clarify and crystallize their financial objectives, as well as their life and family goals. With this high level of understanding, we are better positioned to identify and recommend the resources and solutions that ultimately matter most. One of the keys to our process is the comprehensive network of independent resources (both financial and otherwise) that we have created throughout Canada.
Through our network of experts, we ensure that our clients are receiving unparalleled advice on achieving their goals. We are highly creative in researching both traditional and alternative resources to find the best solutions and we encourage input from our client's existing and trusted advisors, before finalizing any particular strategy.
Rusty has found a comfortable fit with Peacock Sheridan and we are very happy to welcome him to the group.
"Your firm has exceeded our hopes for a company that we could partner with so that we continue the tradition we have for excellent service, expertise and a client centred environment. Peacock Sheridan Group has a vibrant group of people that share the same values as we do. We are very excited about this opportunity, for us and our clients."—Rusty Bracken