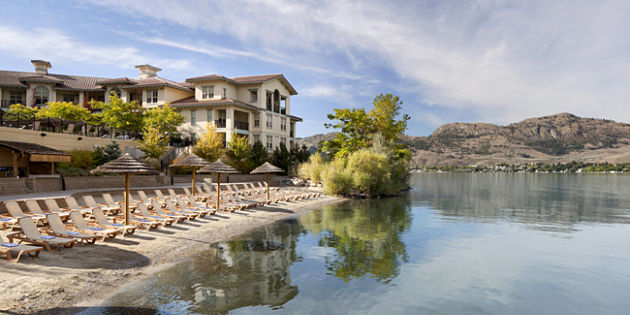 Walnut Beach offers the only licensed beach service in the country.
At Walnut Beach Resort, sun, suites and spectacular views from 112 carefully crafted designer hotel suites gives the luxurious comforts of home and then some. One- and two-bedroom options plus elegant penthouses all provide rich linens, a full array of electronic entertainment and fully equipped designer kitchens where you can turn abundant fresh produce and stellar local wines into tasty snacks and gourmet meals.
But you're on vacation, so skip the culinary gyrations and head for the Promenade Tapas & Wine Bar to enjoy Chef Justin Paakkunainen's memorable creations inside or poolside. When you're ready to explore, renowned wineries are just minutes away, but hurry back. Walnut Beach provides poolside service and the only licensed beach service in the country.
To find out why Walnut Beach Resort is quickly becoming known as the best resort in the Okanagan and a great choice for vacations with the whole family, visit www.walnutbeachresort.com.
PROMOTION
Published annually, Okanagan Life Progress presents
Okanagan Valley business stories told by the people behind them.
For advertising details, see Share Your Story of Progress.