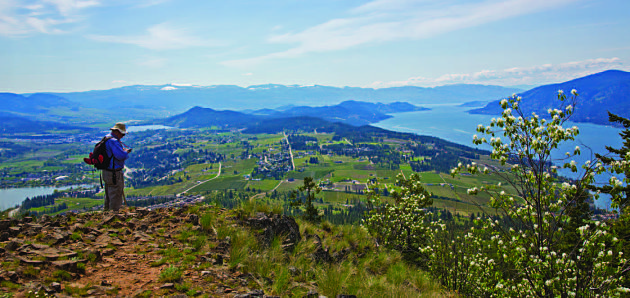 Lake Country has set the bar sky high. Okanagan planners looking to create outstanding trail systems need to head for this mountain and take a hike
At the Spion Kop summit. it's easy to see how Lake Country got its name. Wood and Ellison (Duck) are on the left; Okanagan on the right.
You find vestiges of empire in the strangest places. As a huge history buff, I'm all in favour of names that relate to the heritage of an area, be they aboriginal or settler. But I was left scratching my head just a little over the origins of a landmark familiar to Lake Country residents and anybody else who regularly drives Hwy 97 between Kelowna and Vernon.
Although you may not know the name, you'd instantly recognize the triangular peak, topped by a microwave tower, that rises between Okanagan and Wood lakes just north of old Winfield. It's called Spion Kop (spee´-on cop), a name that comes from the Dutch for "spy hill," which is where the imperial connection comes in. Thee original Spion Kop is a hill in South Africa near the city of Emnambithi-Ladysmith, northwest of Durban. It was the site of a bloody and futile Boer War battle waged in 1900, one of those pointless engagements where men on both sides die for nothing as the British snatched defeat from the jaws of victory, abandoning their gains to the astonished Boers. Hardly the sort of glorious event you'd expect to be commemorated, yet the name crops up in countries all over the Commonwealth. Our Spion Kop, which bears a certain resemblance to its South African cousin, was likely named by Boer War veteran and Okanagan settler Leslie Caesar.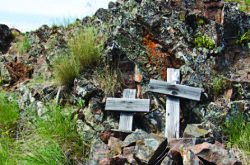 I found all this information online along with an excellent trail map. Thee map indicated four trailheads; I chose Upper Lakes with access from Hwy 97 via Oceola Road. Thee approach through a subdivision is a little convoluted and don't be put off when the pavement gives way to gravel off Apex Drive. It's a very short stretch with plenty of parking at the turnaround where you'll and a trail sign and supply of printed maps updated from the online version.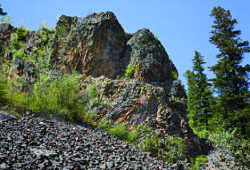 At this point I was already getting a sense of just how well Lake Country has developed this trail system. Following the yellow markers for Arrowleaf Trail, my hiking buddy and I headed for the summit amid an ocean of Okanagan sunflowers, in full bloom that first week of May.
We stopped to talk to a couple of women at a trail junction and, when they heard why I was there, one joked that she hoped I wouldn't tell too many people; they want to keep it all for themselves. But then she generously showed us a new connector trail on the map. Hiking on to the Grand Overlook was moderate with constant views of Wood Lake and an everchanging flower show as we climbed, although the number of dying Ponderosa pines was heart-breaking. From the overlook, the view is about 270-degrees and includes Okanagan, Wood and Ellison (a.k.a. Duck) lakes, Terrace Mountain and Little White.
The Tower Trail is steeper with some difficult bits, though well worth the expanded view from the top. There are actually two adjacent peaks. On the one with the microwave tower I climbed around the side for a shot of my partner and was stunned to find two mystery crosses. The other (two metres higher by our GPS), provided neatly carved benches of columnar dacite for lunch and a rest as blue and yellow butterflies worked the neighbourhood. Descending via the Summit Trail, we chanced on a wall of fanned dacite pipes, similar to those on Mount Boucherie, but perhaps even more spectacular. Our 6.5 km circuit with 260 m elevation gain (marked on the map in orange) left plenty of scope for a return visit and further exploration of the excellent trails of Spion Kop.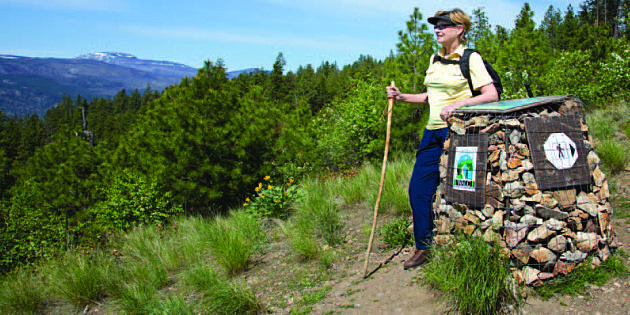 Spion Kop Trail Map