Brandon Jeppesen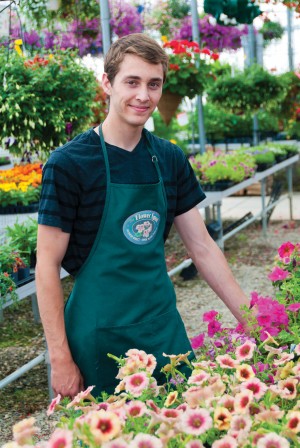 Okanagan College Grad
Budding business tycoon
This self-described hard working, quiet, trustworthy native of Armstrong loves the mountains and lakes of the Okanagan and sharing the family property with his parents, cats Mindy and Dusty, and horses Naughty Scotty and Mandy.
Quintessential career: on the way. Started in April as manager of family business The Flower Spot on Okanagan Landing Road, the retail division of Armstrong's Walnut Grove Nursery. Plans to expand to a full-time garden centre.
Favourite subject: diploma in business administration, with a major in marketing. Loved the practical approach at Okanagan College.
Independence: Why move out when I get free food and living? We talk business every night at the dinner table. Favourite food? Mom's perogy casserole.
Helping out: involved in the family business since early childhood. Helping Dad fill flats with earth, assisting Mom with cuttings, and now overseeing the nursery when parents leave for winter holidays.
Fitness find: all round outdoor guy. Rock climbing, hiking, ocean kayaking, winter camping.
Must have technology: iPhone for business. Have four employees…and Mom. Not into apps or games.
Social media: Facebook page for The Flower Spot. Girlfriend sends me photos on Snapchat.
eReader or print: hard copy textbooks. For leisure reading, Rock Climbing magazine.
Lasting life lesson: Dad taught me to work smart, not hard. Learn to delegate to be more efficient.
Downtime: naps, dirt biking with friends, campfires, working on my truck.
Most admired: cousin Hayden, same age. Can fix any sort of machinery. Never gets flustered.