Nicolo Carboni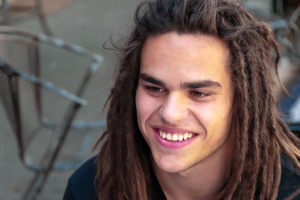 Penticton Secondary School
2013 Grad
Audio engineer—roadie with technical expertise
Move over Glee fans. Nico demonstrates his creativity on anything from a recording studio soundboard to building a burger at Penticton's gourmet Burger 55.  "I like putting on unusual stuff to see how it tastes," he says. He'd love to share one of his concoctions over dinner with 60s electric guitar icon Jimi Hendrix. "I'd ask him what he's thinking about."
Quintessential career: audio engineer. Love the creativity of live shows, meeting musicians, the energy music gives to people.
Favourite subject: recording studio with Penticton Secondary School music teacher Justin Glibbery, learning the techniques of recording and working at live shows.
Independence: proud to work at Red Bag, ethically traded clothing and treasures from Nepal and Thailand, in downtown Penticton. Will study audio engineering at Okanagan College this fall. Meanwhile, appreciates present parental guidance and stability of living at home.
International connections: French mom. Italian dad. Nico, parents and two older brothers heading to Sardinia, Italy, in August. "It's our first big family trip."
Environment in 50 years: no bottled water. "That's my biggest pet peeve."
Helping out: speaker set up and running soundboards for Pen High guitar class shows.
Fitness find: rugby for Pen High, Kelowna Crows and regional team. Like the aggression and manliness. Weekday workouts at Pen High weight room, rugby three times a week.
Must have technology: iPod, especially for music. The playlist? Blues, rock, Hip Hop. Jimi Hendrix, Eric Clapton, Buddy Guy. Wi-Fi for texting.
Social media: Facebook, Twitter, Instagram. No stupid stuff.
Creative outlet: acoustic, electric guitar and filming. Love adding unexpected nuances.
Lasting life lesson: experience life. Find out who you are and who you want to be.
Favourite place in the world: I don't know yet.
Main strength: acceptance.
Take everyone for who they are.