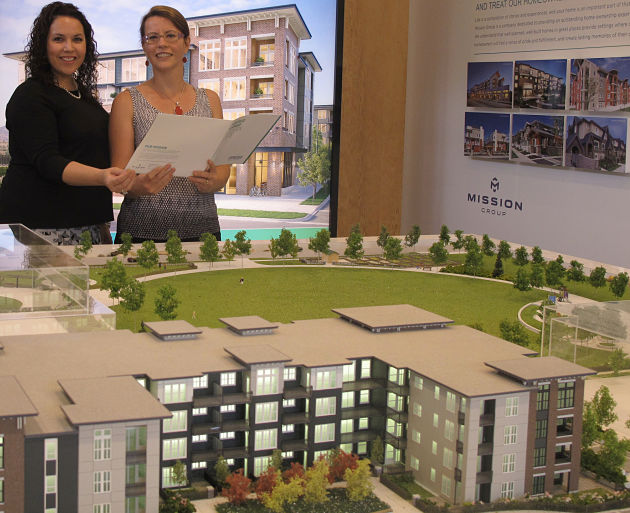 Less than a year after the green light came from City Council to begin development of Kelowna's most sustainable community, Mission Group Homes is now fast-forwarding its plans for Central Green.
The award-winning Okanagan builder announced today plans for CG Two, a second building of heritage-inspired modern lofts.
"Kelowna has strongly embraced the Central Green community," says Mission Group Homes president Randy Shier. "We're six months ahead of where we'd thought we would be when we completed the master planning for this site. It's exciting to see all the enthusiasm for this new community."
In a real estate market that is soaring, homeowners can take advantage of an early buying opportunity. With the early release, buyers can have top selection of the home of their choice and lock in at fall 2016 real estate prices. Mission Group is hoping for a relaxed and welcoming sales environment that contrasts the current fast-paced market. Individual appointments are anticipated to begin in mid-September with a public opening set for October.
CG Two will feature 87 homes and will be a slight variation of the first heritage-inspired condominiums on the site site with two new styles of homes. The building features accents of "school-house" red brick and detailed cornice ledges around the roofline as well as large windows, balconies and patios to enjoy the park views. Starting in the low $100,000s, CG Two will include micro suites to two-storey lofts, and everything in between.
All homes are targeting LEED® certification, offering the highest environmental standards ever achieved for new condominiums in Kelowna under the Leadership in Energy and Environmental Design (LEED®) standard. Homeowners at Central Green will enjoy more effective cooling/heating, use less water and energy, and enjoy better indoor air quality.
Demand for a Central Green home has been steady since opening sales saw $10 million on this first day. Interest is split between first-time buyers and those looking for a smaller footprint and the appeal of urban living in Kelowna's downtown core. Some homes are still available in CG One and will be ready for occupancy next winter.
Located in the new hub of Kelowna, the Central Green community will feature an expansive five-acre city park, and an amenity-rich location that is close to beaches, shopping, dining, and endless outdoor recreational activities. Pedestrian-friendly streets and a new pedestrian and cyclist overpass will connect the entire neighbourhood and encourage an active lifestyle.
"We're building a vibrant community, where the park is just outside your door, the beach is a short cycle away and your favourite restaurants are just minutes from your home," says Shier. "We're anticipating sales at CG Two homes to be very brisk."
Occupancy for CG Two is anticipated for Summer 2018. Mission Group invites those interested in living in the new community to register at centralgreen.ca.
Photo:  Central Green sales manager Heather Blaeser and Mission Group director of sales Joanne Adamson look over plans for CG Two.