Local developers are stewarding a revived interest in Valley properties with an eye to preserving the unique landscape of the Okanagan-Shuswap
A new sense of optimism is running through the Okanagan Valley real estate market. A strengthening local economy, combined with an even stronger Alberta one, is spurring a second wave of development growth in the Okanagan.
Kelowna, with its population reaching beyond 120,000, is seeing the largest number of housing starts since 2008. The value of development permits in the city reached $339 million last year, an amount which no doubt will be much larger by the close of 2014. With an industry that contributes $35.1 billion to the B.C. economy annually, the upswing in property development is most welcome.
Unlike earlier boom years, the new homeowners driving the slow-but-steady revival exhibit a bit more diversity than past residents. Sure, we still have retirees flocking to our scenic valley?—?and those with deep enough pockets who are eager to buy a vacation or second home?—?but we're also now attracting the soon-to-be retiree who's making a much earlier transition to the Central Okanagan. Proximity to Kelowna International Airport has become an important selling point, attracting empty nesters in their mid-50s who are willing to commute, all for the chance of a few early years in wine country. Direct flights to Fort McMurray are similarly attracting even younger commuters, making Okanagan homeownership a possibility for young couples and families when a steady paycheque is within reach.
Competitive pricing is also supporting the recovery, with prices coming in lower than lakefront cabins in Alberta, which can start at $750,000, and at a fraction of what they were in 2006. Add in a vacancy rate of only 1.5 per cent and supply and demand is tipping the scales in the developers' favour.
Beyond the rosy economic glow, it's the unique Okanagan landscape that truly attracts so many who want to make this very special place home. Choosing exceptional land parcels, developers are showcasing the best of the Valley's assets: the lake, the mountains, the vineyards and golf courses. Among the latest real estate offerings in the Okanagan Shuswap, you'll find lakefront communities building marinas and offering boat slips coupled with home ownership, mountaintop communities adjacent to golf courses and minutes from ski resorts, hillside villages emerging along newly planted vineyards and among them all an abundance of walking and hiking trails.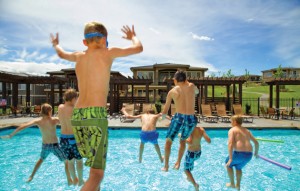 Active healthy living is the definite signature of the Okanagan Shuswap lifestyle. To complement nature's offerings, developers are investing in recreational facilities such as community centres, swimming complexes and even outdoors gyms and designing floor plan that blend the interior with outside living. More importantly, they are demonstrating a strong commitment to preserving the natural landscape, protecting large swaths of parkland in their master planned communities, demanding low-impact, drought tolerate xeriscaping and upholding strict architectural guidelines to ensure buildings fit into their landscape and preserve views.
You'll see quite a few of those exceptional valley views in the next few pages as we showcase the architectural approach and craftsmanship of local developers and builders, the foresight of long-term planning and the stunning locations Okanagan developers are offering up as home.
As seen in:
[downloads ids="122237″ columns="1″ full_content="yes"]