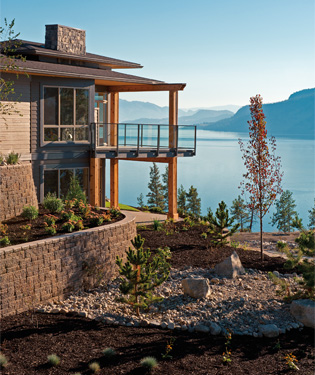 What makes Lakestone special? Well, how about unobstructed views of Okanagan Lake from each and every door. Or the serenity and beauty of living in a home tucked into a sloping Lake Country hillside in the shadow of granite outcrops and ponderosa pines. Or perhaps it's the golf courses, wineries, hiking trails and international airport all less than a 15-minute drive away.
Oh, did we mention that, starting at $200,000, these lakeview lots are an incredible value, and you could work with one of Lakestone's preferred builders or choose your own builder; and that the residents-only $3.5 million Lake Club will offer everything from hot tubs and a pool to a fitness centre and outdoor kitchen?
Yes, Lakestone is exceptional. This 550-acre master-planned community is the work of Macdonald Development Corporation, the same group that brought neighbouring resort community The Outback to the eastern shores of Okanagan Lake. Here, for generations to come, residents will have the chance to experience the developer's vision for Lakestone, which is to use the best remaining parcel of lakefront land this side of the water to give buyers an exceptional place in Lake Country to call home—a home that offers a stunning backdrop to truly enjoy the outdoors as well as the restaurants, shows and shopping of the nearby and vibrant Kelowna.
Even here in the Okanagan Valley, renowned for its lakeside resort communities, Lakestone seems to have it all, and more.
"Lake Country's best remaining parcel of land on the east shore of Okanagan Lake offers buyers incredible value and exceptional amenities."
Of course, it starts with the lake. In fact, the community's tag is: Come home to the lake. Thanks to a sloping landscape, each of Lakestone's fully serviced home sites is either lakefront or lake view. Living rooms, bedrooms and decks perched on this special property all offer breathtaking views of the water.
But, unlike some communities, at Lakestone, you're only footsteps from the beach and the dock, so it's easy to dive in or just dip your toes. In front of Lakestone's private dock is a quiet water area where residents can swim, sail or paddle, protected from powered watercraft.
For those that prefer more gentle, temperature-controlled waters, welcome to the Lake Club. At this exclusive and shared amenity, residents can swim laps in the outdoor pool, relax in a hot tub under a starlit sky, barbecue steaks, or break a sweat in the state-of-the-art gym. The Lake Club even has an outdoor kitchen and a place to store your kayaks and paddleboards.
Of course, you'll have to reserve energy for wine-trailing, golfing and hiking. A prime Lake Country location brings residents within walking distance of ever-popular wineries such as Gray Monk, Arrowleaf Cellars and Ex Nihilo.
Two hiking trails await at your back door: Okanagan Centre Road West and Long Road. You'd only have to drive minutes north on Highway 97 to take in four more trails, two of which offer pristine views of Okanagan and Kalamalka lakes.
Golfers find their own bliss at championship tracks of spectacular views and impressive fairways, just down the road.
This is Lakestone.
The door to its sales office opened in the fall of 2013. Today, the first four phases—of private home sites near the shore—are already 85 per cent sold. The fifth and sixth phases, featuring lots starting at $245,000, are now available. This summer, vacationers and locals alike will also be able to buy one of the 18 semi-detached villas being released for sale.
Only a single question remains: which one is your dream home?
To learn more about this exciting home ownership opportunity in Lake Country, visit www.lakestoneliving.com or call 877.766.1213.