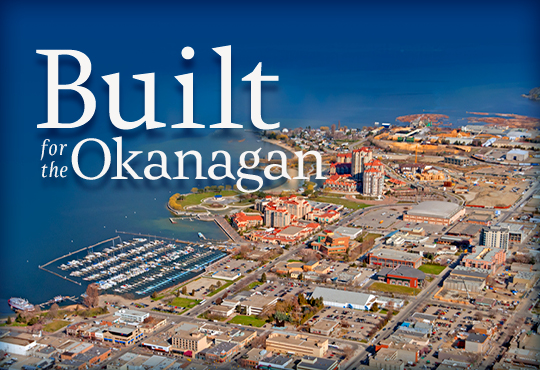 The future looks stagnant if you base predictions for commercial and residential construction in the Kelowna area on one set of numbers alone. Recent Canada Mortgage and Housing Corporation (CMHC) figures indicate  only minor improvement in single family and townhouse construction numbers while condo development is flat.  But that's not the whole picture.
Things are changing here in Kelowna," says Jim Paterson, executive director for business development at Kelowna City Hall. "The number of building permits applied for is increasing significantly in the core Kelowna area. Where we see them growing slowly or not at all is in the outlying areas."
Last year's figures indicate that by the end of October the number of building permits issued by the city was up from 1,540 the year before to 1,602 (4.03 per cent) with two months left to run. This represents a value of $251,128,549 for 2012—more than $18 millon  or 7.75 per cent above 2011.
Paterson points out that there are a lot of myths and half-truths about growth in the city. Among them is the idea that growth has stopped.
"When I first came here in 2008 Kelowna was doing housing numbers that were as much as 70 per cent of those in Winnipeg, which is a city that's five times bigger than Kelowna. Times were booming and what's happened is that we've gone back to non-boom, normal growth."
If anyone at city hall has their finger on the construction pulse it's Paterson and he is keenly aware of some of the conditions affecting the community.
One area that he feels will drive continued growth is the fact that Kelowna is an "aspirational" location. "People want to come here to live and our markets depend in part on people moving in from across BC and other western provinces," says Paterson. "You've got to remember that if Calgary and Vancouver are doing well, so goes Kelowna."
One thing working against Kelowna at the moment is the belief that the city is unaffordable. In response to this, Kelowna is setting up a committee to debunk the perception. Plans for the committee include consulting additional members like the Canadian Home Builders' Association, CMHC and the Chamber of Commerce.
Market correction
"We want to ask the question, 'Are we affordable?' to counter the idea floating around that Kelowna is overpriced," says Paterson. He believes it isn't. "When you compare Kelowna to other municipalities, you have to give our development community credit for providing high-quality, single family homes in good locations for less than $400,000 in some instances."
Recognizing the boom years were unusual circumstances, Paterson realizes that in a period like 2008 builders built way beyond the possible absorption rate. Condominiums—both townhome and apartment—poured onto the market, driven by speculators looking to buy and flip properties.
Eventually, the banks had to cancel financing rather than get stuck with empty developments like the Lucaya on the northern edge of Kelowna's downtown and the Conservatory on Glenmore Road. In the case of the Lucaya squatters moved in to the unfinished structure and damaged it.
"It's taken a few years to absorb what was on the market, but that's now happening," says Paterson.
External influences
Even the banks are starting to loosen the purse strings on mortgage lending, but, according to TD Canada Trust economist Diana Petramala, it still isn't going to be easy.
"Across the country home prices are trending downward. All over BC housing prices are dropping and beginning to stabilize at more affordable levels. But Vancouver is still bucking the trend and it has the potential for an even larger correction than in the rest of the country."
Canada still isn't as safe as the money people would like it to be. Part of our problem has been the instability of American banks, and any external shock (like the failure of one of the Big Six American banks) could send us back into a recession.
"The other thing that concerns us as much as the American banks is the amount of household debt Canadians are carrying."
New mortgage rules reducing the amortization of mortgages are going to affect the market adversely. While clients with good credit scores can still get a mortgage, those with high personal debt may be faced with problems renewing their mortgages when the time comes. That impact will be particularly hard if the Bank of Canada raises its prime lending rate.
Local factors
Experts agree that the Okanagan economy is largely based on the pension income of retirees and on seasonal tourism. The consensus among people in the construction and development business is that there is a shortage of good paying employment for young people to give them the necessary financial strength to take out a mortgage— even with help from their parents.
Rob Anderson is keenly aware of these facts. He is a small builder constructing around 15 single-family homes a year under the banner of Built-Rite Homes. This results in an income stream of $3–$4 million a year. In peak season, he employs up to 60 trades people in addition to his five full time staff.
Anderson is a glass-half-full kind of guy. His take on the 2008 crash was that it was necessary.
"Pricing in the Kelowna market dropped by at least 25 per cent—a necessary correction as prices were not sustainable," he says. "Prices of single family homes have stayed fairly steady ever since."
Following the downturn, there has been a change in the labour force as well. During the boom a lot of itinerant tradesmen came into the Valley to fill the abundant jobs. Once things began to taper off, those without a vested interest in the region moved on to Alberta and Saskatchewan. This left a smaller, but more committed workforce who live here.
"I think the future is pretty solid here," says Anderson. "Kelowna is going to be a 'destination' place to live. But, right now business is slower than I would like it to be. The global economy is causing concern on certain levels, but it's the local economic structure that makes it tough for young people to create and maintain good jobs and the prices over the last few years have made it tough for them to get into the market."
Anderson is confident enough about the future that his company is in the final stages of completing a new show home at The Lakes in Lake Country.
Diverse strategies
Small signs that things are starting to improve are showing up in unexpected places.
"Resort developments are the first to fall off when times get tough and they're the first to come back when the economy starts to improve," says Don Dudgeon. He runs Kelowna-based Cardan Enterprises Ltd. with his wife Lisa, who also does estimates, runs projects and can manage a crew (which makes for a unique dynamic in the office environment and at home).
Cardan's business model is different from most of the builders in the Valley. One of the larger local companies with just under $10 million in revenue last year, Cardan does a mixture of construction including residential, resort and commercial.
With time to plan, Dudgeon started to bid on commercial work outside the Valley. Because he was already in resort construction, he got a preview of the downturn that was coming in 2008. That year Cardan built 70 custom homes in the region, but when the full effects of the American mortgage crisis slammed into BC, he saw his building starts drop by more than 21 per cent to only 47 new custom homes in 2009.
After watching local resort construction tail off in 2008 with the financial crisis in the United States, Dudgeon, who kept his crews busy by pursuing projects outside of the Okanagan, is now beginning to feel a little "cautious optimism" about business prospects in the near future.
While building in the Valley tanked in 2009 and 2010, Dudgeon began to see signs in 2011 that construction was trickling back. Last year the company undertook 40 new projects, but not all of them were resort homes.
"Resort properties give us a neat little window on the construction business here, because homes tend to follow resort properties," he says.
Resort construction makes up a substantial portion of Cardan's annual overall business. While their project portfolio includes major names like McDonald's, Fortis BC and Terasen Gas in the commercial sector, Cardan is currently undertaking the strata portion of the new Hudson Bay Mountain development in Smithers.
Cardan has also been involved in building most of the homes in the La Casa development midway between Vernon and Kelowna on the west side of Okanagan Lake. In all, the company has built more than 130 of the vacation properties and has a number of new ones under construction.
Through the soft years, quality product was never an issue for builders like Cardan. In 2008 and 2009 the Dudgeon's and their staff garnered 10 Tommie Gold Awards from the Canadian Home Builders' Association—Central Okanagan, including the 2009 Grand Award for Builder of the Year.
Surviving the downturn
Okanagan builders and contractors survived the downturn by using a number of different strategies to keep their crews working.
Don Dudgeon elected to put Cardan's efforts into commercial developments as far away as Winnipeg. These projects were not as vulnerable to the trickle-down effect of the crisis plaguing the residential mortgage business in the United States, which caused Canadian banks to tighten up on lending to private homeowners.
The company had been in operation barely two years when the crisis struck. "It was a role reversal for BC," says Dudgeon. "Saskatchewan and parts of Alberta weren't doing too well when I got into this business in 2006, and the Okanagan was booming, but by 2008 the situation was reversed and tradesmen were starting to leave the Valley to work there. To keep the company moving ahead we were sending crews out to commercial projects across the west."
Looking beyond the Valley for commercial work has seen the company through the downturn and positioned it positively for the foreseeable future. Now a small upsurge among new resort property buyers suggests an impending upswing in new residential housing starts as well.
Rob Anderson had a different approach to keep his company afloat in the turbulent economic waters. Anderson involved himself and his construction team in Project Build, an idea that was proposed by real estate broker Gino Dal Ponte.
Set up by the Central Okanagan Foundation, the original Project Build was designed to involve the development community in a philanthropic project. Builders could contribute product and time to building a house that would be sold to people who otherwise wouldn't qualify.
"We were looking for a creative way to fundraise that would appeal to the construction industry," says Leanne Hammond, former executive director of the Central Okanagan Foundation, who worked with Built-Rite. "Rob Anderson was the key guy in all of this and is still with the project."
Following this successful first project, Dal Ponte realized that there were many young families who were on the cusp of success and could afford a mortgage but could not come up with the down payment. This was the start of Project Build II at the Sageglenn development in Lake Country.
Anderson says, "What we [the Sageglenn developer, builder, trades and suppliers] were able to do was give up a small part of our fees on each house. This resulted in a grant of $45,000 to each purchaser, which represented the down payment on their home. It's very much a "win-win" situation as we have been able to get over 40 families into homes who otherwise wouldn't have been able to—and we were able to keep building and working through the local recession."
Project Build is now an independent philanthropic society. Hammond is the executive director and she depends heavily on Anderson and his colleagues.
~ Story & photo by Bruce Kemp