A group of local volunteer dancers strutted their stuff to the beat of Bruno Mars this weekend at Kelowna International Aipport (YLW) in an attempt to follow up on their hugely successful "Kelowna is Happy" video last year.
"I promised I wouldn't do this again," said producer Mark Jennings-Bates who received a phone call from Lucy Lauretta at Giobean a few weeks ago to indicate another opportunity was created by the recent Bruno Mars hit UpTown Funk which has over 2 billion views on YouTube. "I guess I was up for the challenge again and made a few calls to last years dancers to see if they had the energy and the time to help out."
The team at YLW were very quick to jump on board to be the location for the video shoot.
"Being at the airport can be a happy place," says Jenelle Hynes, YLW Community Relations Manager. "I love how the video captures just how excited we feel as we get ready to fly out on a vacation. You can't help but smile when you watch this."
YLW has consistently set passenger traffic records for the past several years and is known as a great airport for both domestic and international travellers alike.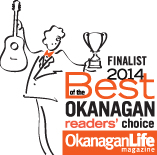 Tina Mandl, the owner of Oranj Dance and Fitness in Kelowna (a Okanagan Life magazine readers'  choice for Best Yoga Studio) choreographed for this year's video, creating a highly energetic and fun video rivalling last year's video.
"It proves that Kelowna is still a happy place," says Tina. "The staff at the Tourism Kelowna booth showed off an amazing Kelowna welcome during the shoot."
The video wraps with a reminder to spread some happiness in Africa and support the Kelowna charity Rally4Life at www.rally4life.org.