Because of the outpouring of community support, the Board of Directors is proud to say that Ballet Kelowna has emerged from challenging circumstances with growing strength and optimism about the future of the organization.
"The members of the Board are absolutely delighted that so many people in the community have stepped forward in support of this unique ballet company thus enabling the Society to offer a 13/14 season," says President Deborah Ward.
Okanagan Life Cover Party
An enchanting evening awaits you…as we mark the silver anniversary of Okanagan Life magazine. It's an evening like no other, with entertainment from cover to cover as we raise funds for Ballet Kelowna.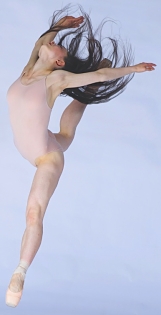 The season opens on Friday, December 6 with The Nutcracker, an enduring classic that has been delighting Okanagan audiences for over twenty years. Ballet Kelowna dancers take the principal roles in the Canadian School of Ballet's production and we welcome you to share the joy and wonder of this holiday tradition.
Ballet Kelowna is thrilled to welcome the Royal Winnipeg Ballet's exquisite production of Romeo + Juliet to Kelowna on January 28, 2014. Shakespeare's beloved star-crossed romance is a timeless masterpiece. The magnificence and grandeur of Rudi van Dantzig's full-length production captivates with its riveting sword fights, compelling drama, and breathtaking classical choreography.
On April 25, 2014, Ballet Kelowna launches its second decade with a ground-breaking program featuring Canadian choreographers and composers. From pioneering works to a cutting-edge commission, Innovation will challenge ideas of contemporary ballet. Artistic Director David LaHay celebrates his final season with a performance not to be missed.
"It has been such an exciting and rewarding journey leading Ballet Kelowna through its first decade and I am so very grateful to everyone who has shared in this wonderful experience," says LaHay of his tenure with Ballet Kelowna.
This small but mighty company will tour across the province this spring. The dancers have come to be ambassadors for Kelowna and the wealth of cultural diversity that exists in the city. Some 15,000 people see Ballet Kelowna perform in a typical season including many children who attend the company's school performances across the province.
Subscriptions and single tickets for Ballet Kelowna's 13/14 Season can be purchased online, by phone at 250 862 2867 or in person at 1379 Ellis Street, Actors Studio Box Office. Additional program and ticket information can be found at www.BalletKelowna.ca.