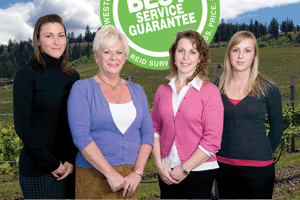 Western Financial Group is a leader in providing insurance, financial and banking services in over 85 communities, to more than 550,000 individuals and businesses in Western Canada through its Network retail locations, its affiliated insurance brokers, Western Life Assurance Company and Bank West.
With a focus on "smaller town" BC, Alberta, Saskatchewan and Manitoba, we provide our clients with a full-range of financial products and services under a unified and recognizable brand. In most locations we also offer life insurance products, travel insurance, some investment services, and deposit and loan services such as the purchase of guaranteed investment certificates (GICs), as well as, personal and commercial mortgages and loans.
Western combines the resources in choice and buying capability of Western Canada's largest insurance broker, with the care and service of local businesses staffed by local residents. Our educated staff in Chase, Vernon, Lake Country, Kelowna (Mission, Rutland and Harvey) and West Kelowna has the expertise to help take care of all your insurance needs. We offer local residents a wide-range of insurance products such as home, auto, business, farm, life, pet and specialty insurance products, and in many locations, financial services.
Accompanying our insurance products is a guarantee that we are accountable to deliver four key benefits—widest product selection in the Okanagan, annual policy review, local service and a fair claim when the unthinkable happens.
Stop by one of our seven convenient locations in the Okanagan to find out how we can help with all your insurance needs so you can have peace of mind knowing that you're taken care of.
"I just wanted to let you know how pleased we are with Western Financial Insurance. When BC Lodging & Campground Association (BCLCA) first advised that Western Financial was selected as the insurance company of choice, we contacted our broker. Not unlike most small businesses we thought we already had the 'best deal available.' She sure proved us wrong; well worth the call. The first year Western saved us about 20 per cent and provided a bit more coverage than we were receiving even after adding a few options that we did not have covered. Now that they have their foot in the door, of course, we were expecting the big increase for year two. As the renewal approached Lisa called and advised that she was changing carriers for our home insurance to save us a couple hundred dollars. The call was unprovoked and really unexpected; an insurance company that works for their customers. We have never had this happen before. Our broker is very professional and honest and we really believe she is looking after our best interests."—Merv & Kim Harvey, Kelowna