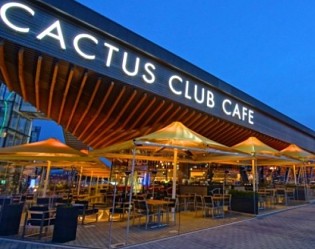 Diners looking for Kelowna waterfront restaurants will have a new choice when the Cactus Club Cafe opens on the first floor of the new Kelowna Yacht Club building on Water Street.
"We are building the premiere development on Kelowna's waterfront and were determined to attract an operator for the public restaurant that would equal this unique location," says Commodore Mike Terris. "We are delighted that Cactus Club Cafe has decided to join us next to Stuart Park on the waterfront. They are a terrific addition to our vibrant downtown."
The Kelowna Yacht Club's new 24,100 sq. ft. building, just north of their current clubhouse, consists of two floors. The southern half of the first floor is intended for a public restaurant and that is the space which Cactus Club will occupy.
"This is an ideal location for the Cactus Club Cafe," says Terris. "The building fronts Water Street on the east, the new Stuart Park on the south and the new waterfront promenade currently under construction along the lake."
Patrons will be able to sit on the restaurant's patio and enjoy fine lakeside dining, while taking in the views of the park and Lake Okanagan.
The top floor of the Yacht Club features huge covered decks with fabulous views of the lake and will house the members' restaurant and lounge and a large public banquet facility.
Cactus Club Cafe began as a small restaurant in North Vancouver and has quickly grown into 25 restaurants across British Columbia and Alberta. The menu, designed by Executive Chef Rob Feenie, focuses on the freshest sustainable and local ingredients, including Ocean Wise sustainable seafood.
Rich in history and embracing the future, Kelowna Yacht Club is a boating community dedicated to providing educational, social and recreational opportunities to their members and to the general public. The club has three types of membership – regular, social and corporate. More information about the club, its activities and membership opportunities can be found at www.KelownaYachtClub.com