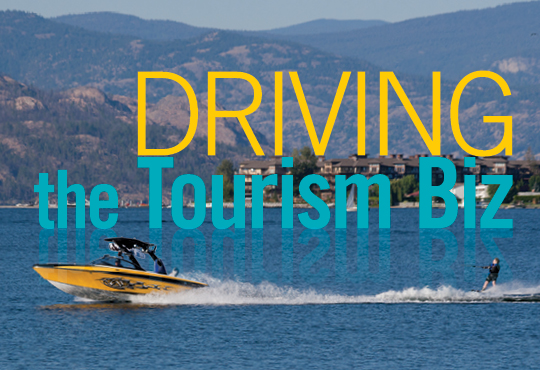 Okanagan Life Progress interviews Thompson Okanagan Tourism Association (TOTA) CEO Glenn Mandziuk
For Glenn Mandziuk the possibility of any career outside of tourism and economic development was a non-starter. He was literally born into the profession and has used everything he's learned to make a name for himself and, more importantly, the organizations he's led.
Glenn is the CEO of the Thompson Okanagan Tourism Association (TOTA). In the three years since he took on the post, he's moved the organization forward onto the world stage and been personally recognized for his efforts.
"We've really worked over the last year-and-a-half to build the foundation of an organization that can support the growth of tourism in the region and we feel we've got the right team and the right strategy in place now to start to fly," says Glenn.
Standards of Excellence
The latest accomplishment positioning TOTA squarely in the international tourism marketplace came last December with accreditation by the Destination Marketing Association International (DMAI), a Washington, D.C. based tourism marketing association.
Accreditation means that TOTA has achieved a high standard of excellence in all areas of its operation. To do this the organization had to meet 58 mandatory and 30 voluntary benchmarks in governance, finance, human resources, technology, marketing, communications, brand management, destination development, research, innovation and stakeholder relations.
In short, says DMAI chair James Wood, TOTA's achievement tells the business community in the region that it "…has attained a measure of excellence, assuring that their trust is well placed and their business is in good hands."
This is no small thing. Tourism represents a $1.75 billion economic stream flooding into the region creating badly needed jobs at a time when other industries are flagging. According to TOTA board chair, Ingrid Jarrett, "…tourism is poised to be the leading economic growth sector in the province."
Early Days
Riding the crest of that flood is Glenn, who began his career in tourism in the family business in Osoyoos. His dad and mom, Glenn Sr. and Lois, were already veterans in the tourism industry before moving west to the Okanagan from Dauphin, Manitoba. Young Glenn was a teenager when the family bought the 14-unit Bella Vista Motel.
Glenn didn't go through the teenage angst that can be brought on by being forced into the family enterprise at an early age—he enjoyed it and treated the situation as an opportunity to learn. When other kids were whining about their old man, Glenn was learning from his.
"One of the things that always resonated with me
was that my father wanted to create an experience. He wanted the 'going back to grandma's house experience.' He wanted you to feel that coming to this property was like going back to grandma's house. And it worked extremely well. He had high occupancy rates annually, whether it was snowbirds in the winter or summer occupancy. Somebody had to die or you had to book really early to get a place in the cycle. So it was a great place to sink your teeth into."
As his parents continued working hard to make a success of their business, Glenn went off to the University of Calgary to do his undergraduate studies in leisure and tourism. He capped that with a master's degree in environmental design that focused on planning and eco-tourism.
Destination Osoyoos
Returning to Osoyoos in 1994, Glenn became the economic development officer. This was the position where he began putting what he had learned both from his parents and at university into practice.
It was also a period in the Valley's history when tourism really started to evolve from its long-standing regional summer vacation focus into a globally recognized destination. That evolution was helped along by young visionaries like Glenn.
In his role with the municipality, "We not only looked at economic development, but tourism and we oversaw tourism visitor services, oversaw downtown business revitalization under Destination Osoyoos (the umbrella name for tourism and economic development)."
During his time in Osoyoos, Glenn had the opportunity to work with neighbouring communities, in particular the Osoyoos Indian Band. His efforts with the band helped forge stronger bonds within the entire area's business community.
The philosophy of "create an experience" Glenn learned from his father was also to prove useful. It encouraged him to work with the local band on the development of Nk'Mip Cellars, North America's first Aboriginal owned and operated winery, and the Nk'Mip Desert Cultural Centre. Aboriginal Tourism BC honoured Glenn for his work, naming him Industry Partner of the Year in 2008.
Regional Outlook – Global Strategy
When Glenn moved to TOTA he immediately put his experience from Osoyoos to use in bringing the organization to its current marketing model. "We've worked hard over the last year-and-a-half to build the foundation of an organization that can really support the growth of tourism in the region. We really feel we have the right team and the right strategy in place now to really start to fly."
One of the first tasks was to broaden the mandate of the organization so it wasn't just a marketing agency, but "…an organization that affects tourism holistically," says Glenn, "because we want to develop the products and support systems. If we're always selling the same products we're never really going to grow the pie and so we have to nurture new products."
TOTA turned a big corner with the launch of a draft strategy at its summit conference in November 2011. This is the first regional strategy of its kind for tourism anywhere in British Columbia.
Glenn believes that it's important for his membership to understand that Vernon and Valemont and Kelowna and Cache Creek are all in the same boat and on the same team. One of the first tasks confronting the new CEO when he arrived in the job was getting people into a dialogue and leveraging each other's marketing.
When he first sat at his desk, people were thinking TOTA was going to come up with a new brand for the Thompson Okanagan. But Glenn says, "It's not that. It's the elements of that. You can brand your organization and what it stands for, but our region is a very large country in essence. We're the size of Ireland. We have 3,200 businesses in tourism. Tourism here is a $1.75 billion industry. And that's something I couldn't tell you six months ago, I couldn't tell you the size of our tourism industry."
Part of Glenn's strategy was getting down to the important numbers to answer the question: How big is this industry?
"We have those numbers now and we're trying to communicate the shear size of our tourism region and business."
Because of this TOTA is looking at key themes it hopes will drive future Thompson Okanagan efforts.
Iconic Imagery
"We're focusing on the iconic," says Glenn. "So we're really pushing what Thompson Okanagan means from a tourism point of view. What are those signature properties and signature experiences that are there now and will rise to the top?"
He cites Mike Wiegele's Heli-Skiing in Blue River, which is world-renowned. People come from all over the planet and pay a premium price for that experience. Penticton's Subaru Ironman Canada triathlon is another world-renowned product that is iconic.
"Those are the kind of products that will rise to the top in the imagery that we put out as an association to represent the region," he says.
In the past TOTA tried to be all things to everybody, but in the world of global tourism you need to distinguish yourself in specialized areas.
Among the different categories of experiences that have the Okanagan's name written all over them is the experience of culinary travel. With more than 120 wineries approaching the 2012 growing season and dozens of high-end restaurants Glenn feels that the Okanagan can own culinary travel in the west.
"Look at God's Mountain Estate just south of Penticton. It's the ultimate B&B offering luxury accommodations along with a pretty unique farm-to-table culinary experience. You can see the produce being harvested then watch it being prepared and served in the vineyard. Not many places can compete with that."
Combat Seasonality
Still, there are potholes in this wider road that TOTA must contend with. Deepest of these is the seasonal view of travellers when they think about BC and the Thompson Okanagan region. BC is considered a seasonal destination by international visitors. Apparently we offer only winter and summer.
"One of the things as part of that (regional) strategy was that we really looked at the numbers from top to bottom. We talked about seasonality of the tourism industry and that 80 per cent of the revenue is generated in two months of the year."
Glenn points out "that the same topic was covered in 1970, 1980, 1990, 2000 and here we are today and that graph has not changed a lick. In that time we have seen the strongest tourism growth of any region in the province and we've seen the highest revenues in the history of the region. It's growing faster than the province. But people still tend to come at the peak of summer."
Since the 1970s the region has seen almost $2 billion in investment in new hotels as well as festivals and attractions in the spring and autumn shoulder seasons, yet the graph hasn't changed.
Know the Competition
Glenn believes that the industry really needs to come together. It's been fragmented and insulated from the broader world reality. "It shouldn't see the competition as the guy next door. Our businesses really and truly need to see that the competition is Scottsdale, New Zealand, Australia and Mexico."
Harkening back to his earliest days in Osoyoos, Glenn says local businesses need to recognize foreign competition and to learn from what they are doing to achieve success rather than adopting the attitude that "I've got to get more room nights than the hotel next door to me."
Glenn says, "The other part of the equation is that visitors are looking for experiences. They're not coming for hotel rooms. They're coming for an experience and the only way you can create an experience is if the industry works together. So an attraction and a hotel and a winery all have to work together to create a package of experiences."
TOTA's strategy is a now a broader 10-year plan tied directly to the provincial strategy and the new national strategy that the Canadian Tourism Commission (CTC) has just put together.
Fundamental objectives and principles have been set up that address the need to maximize value while extending the season and applying it throughout the entire region.
To make it easier for tourism operators across the country to adopt this new globalized strategy, the CTC has created a toolkit, called The Explorer Quotient™, for businesses to identify and market to those visitors most likely to seek them out.
Follow the Vision
Glenn is keen on this approach because it matches who he is and what he's learned from his parents, school and work. At this point in his career, Glenn is well known and highly respected in the broader context. The Economic Development Association of BC has named him Economic Developer of the Year for the province. In 2011, Glenn was honoured with the Economic Development Association of Canada's President's Award "for dedication to service and contribution to the advancement of the economic development profession in Canada."
When TOTA brought Glenn Mandziuk on board, they got an accomplished professional willing to link the regional organization with provincial, national and international groups and the vision to ensure that the Thompson Okanagan isn't left behind in the new world of global tourism.
Glenn has the final word. "In our beautiful and diverse region we have travel destinations second to none in the world."
Photo by Laurie Carter