TomTar Roofing & Sheet Metal
You'll find the stunning workmanship of TomTar Roofing & Sheet Metal at the new downtown marina along Kelowna's waterfront. Specialists in fabrication, the team at TomTar fashioned the elegant curved roofing for structures along the new public pier.
Heading up Highway 97, TomTar's expertise is showcased at a number of the city's new commercial properties: in the sleek industrial design of new Kelowna Keg restaurant and the roofing, metal cladding and ceramic tile rainscreen on the Marshalls store. Further north is the Glenmore Landfill Office complex that serves as staff offices and hosts a visitor gallery where school groups can learn the benefits of recycling. TomTar installed both the roof and the building's zinc metal cladding.
"
Our services are much more than just roofing and sheet metal," says general manager Robert Greenough. "We are a building envelope company, from insulated wall panels to full assemblies with liner panels, to rainscreen systems with vapour barriers, insulation, and any type of exterior cladding."
TomTar operates the most technologically advanced architectural sheet metal shop between Vancouver and Calgary. Stocking a large metal inventory, including exotic copper and zinc, ensures any required metal is in stock and in nearly every colour on the chart. With a state-of-the art CNC table router, TomTar has the capability to produce aluminum composite materials (ACM) panels in house at in a fraction of the regular lead-time.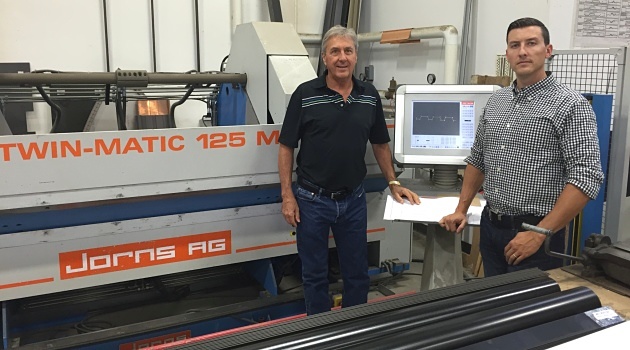 Celebrating 70 Years of Expertise
Over the years, TomTar has been involved in nearly every major commercial roofing project in the Okanagan Valley, from Prospera Place and the Vernon Multiplex to an extensive portfolio of commercial projects shopping malls and hospitals.
The Greenough family has been operating the business since 1945 when Harold, a super­intendent for Barr & Anderson in Vancouver, moved to Kelowna to manage a new branch. He later bought the franchise. This year marks the 70th anniversary of Barr & Anderson and TomTar's 35th, an Okanagan business that has been family run since opening its doors.
Tom joined Barr & Anderson very young, his first task was sweeping the shop. He rose through the ranks working in all divisions and finally settled in to manage the roof­ing/sheet metal division in his mid-twenties. By his late twenties, the decision had been made to create a new roofing and sheet metal company and in January 1980 TomTar Roofing & Sheet Metal was born. Tom's son, Robert joined the company in 2001 and is the current general manager.
"We pride ourselves on being the company you can count on to do what we say we will do," says Robert. "You can't purchase a reputation, it's earned, and we strive to be the best. We stand by our experience, integrity, our employees, and our record of past projects."
Employing 50 people, the company recruits high quality employees in both skills and character. Today, TomTar's crews work across B.C, Alberta and into Saskatchewan. They are currently working on a 550,000 sq. ft. building in Edmonton, one of the largest buildings being built in Canada this year.
Although primarily a commercial company, TomTar also has a residential division where they apply their vast experience to a range of innovative and custom jobs.
"We just like to remind owners that your roof and wall system is protecting your entire investment," says Robert. "The investment into a quality contractor will pay for itself. We've seen too many roofs start failing after a year or two, offered by the guys working out of their pickup trucks, and even some of the larger companies who's trucks you see around town. Ensure that the company is certified and has Journeyman on staff. When in doubt call a certified roofing in­spector or RCABC (Roofing Contractors Association)."
TomTar Roofing & Sheet Metal is located at 199 Pinto Road in Kelowna. Visit www.tomtar.ca for more information.
---
[downloads ids="128429″ ]