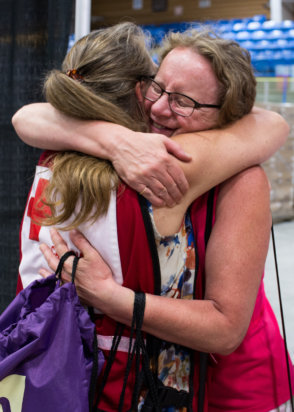 Volunteers are the heart of the Canadian Red Cross. More than 17,000 volunteers share their time and skills to help others every day across Canada as part of the largest humanitarian organization in the world.
Apply to become a volunteer
The Red Cross has opportunities for you to give back to your community, meet new people, and gather new experiences. We offer a variety of volunteer positions involving both shorter and longer-term commitments, and requiring a range of different skillsets.
We truly could not do the work we do without volunteers and we need them at all levels, including leadership.
Dara Murphy, volunteer and co-leader of the Canadian Red Cross' Health Equipment Loan Program in Penticton says helping people access equipment like walkers, crutches and bathroom aids as they recover from illness or injury is "probably the most rewarding volunteer job I've ever had."
The Canadian Red Cross Health Equipment Loan Program helps provide people with equipment by-donation on a short-term basis.
In sixteen years with the Red Cross, Vernon's Cor Zandbergen has responded to countless disasters including flooding, fires and ice storms across Canada. He currently leads the Red Cross North Okanagan Personal Disaster Assistance Team, ensuring emergency social services are available to people impacted by disasters across a land base of more than 7,800 square kilometres.
Cor was recently recognized with the Order of Red Cross, receiving the Society's highest honour for his incredible service, helping thousands of people before, during and after disasters. "I've never really aspired to be doing this work for recognition," he says. "It's just work as a volunteer that I really believe in."
As seen in
[downloads ids="152160″ columns="1″ excerpt="false"]
Why volunteer?
Many Red Cross volunteers are drawn by our mission and fundamental principles. Some volunteers are interested in building professional skills, others are looking to stay active after they retire, while some are in search of new ways to engage with their community.
Volunteers make up more than 70 per cent of Canadian Red Cross personnel. In B.C. & Yukon our extensive network of offices, programs and services actively reach out and serve local communities and their surrounding regions.
We want Canadian Red Cross volunteers to get the most from their experience. That's why we invest in our volunteers by providing training to help them build skills and maximize the learning potential in their roles. Our volunteers can expect a positive and professional environment.
Ready to be part of the Canadian Red Cross?
Join Dara, Cor and others like them across the Okanagan. Go online to redcross.ca/volunteer or call
1-844-818-2155 for more information on volunteer opportunities in your area.
PROMOTION
Published annually, Okanagan Life Progress presents
Okanagan Valley business stories told by the people behind them.
For advertising details, see Spotlight on Okanagan Business.
This space provided by Harmony Acura.