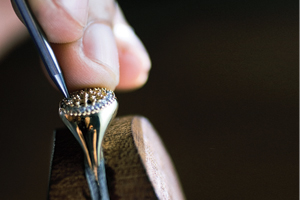 Pandora started out in Denmark as a small business run by a pair of goldsmiths nearly 30 years ago. Today the company is the world's third largest jewellery manufacturer. With stores in 28 countries their popular charms grace the wrists of women everywhere. Lyle Hance began opening the company's Canadian concept stores in 2009, including one at Orchard Park in Kelowna in June of 2012.
Pandora is an unabashedly feminine store, aiming its gold and silver pieces at women of all ages and, of course, the men who love them. "We sell to younger children, mothers, grandmothers," says Hance, "and it is easy for men to buy from us too." The beautiful little charms are the perfect gift to celebrate special moments in their lives.
While best known for its charms, Pandora is also popular for its romantic, high quality jewellery lines. With more than 3,000 designs in all, they have something for every woman's style, her every mood, and for every occasion. Build a classic yet contemporary bracelet featuring a variety of silver, gold and Murano glass. Select from the "Stories" collection of matching earring, bracelet, ring sets and watches. Or choose the new 18k gold "LovePods," featuring brilliant-cut hand set diamonds. Mix and match to your heart's content; even in the budget-friendly selections, the quality of each Pandora piece shines through. "All of our products are handmade," says Hance. "Some companies mass produce their products, but at Pandora it's very labour intensive. Up to 40 expert hands touch each piece."
Hance says Pandora jewellery was initially put into small stores, little mom-and-pop operations and gift shops, and when Pandora wanted to branch out into concept stores, he saw an opportunity. Having lived in Kelowna, he's pleased to be back and, as he puts it, "making Kelowna and area a little more charming."
Just as Pandora started as a family business in Copenhagen, Hance keeps family ties in his stores. "It really is a fun business," he says. "And as you get more good people on board, it continues to be fun." His 105 employees are continually upgrading their skills. But for Hance, business success isn't just measured in revenue and opening new shops; it's also measured in giving back to the community. "We do a lot of corporate sponsorship," he says. "Pandora has been a big supporter of breast cancer research for many years. We support the local community wherever we go—we feel that is important."
Drop by Pandora's Orchard Park location, or visit www.Pandora.net for more information. You can also follow them on Facebook and Twitter. There's even a Pandora app for mobile devices, featuring the latest information on new lines and releases.