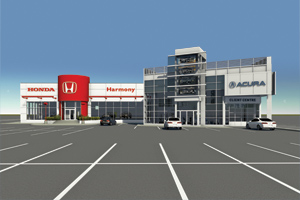 Harmony Acura is bubbling with excitement as the team moves to a stunning new showroom conveniently located on Kelowna's Enterprise Way auto strip. Until April, they're sharing space next door with Harmony Honda, but everybody is pumped about getting into the new digs.
When the move is complete, the dealership that focuses on the four Rs of respect, responsibility, reliability and relationship will proudly display the coveted Acura Ace Award, an honour the team has earned for two years running.
Long-time clients will recognize the same great people, focused on matching them with exactly the right vehicle and providing after sale service known for speed, trust and convenience.
The beautiful new showroom will feature stars of the Acura line-up including the powerful and sporty TSX and TL sedans, the luxury RL Elite and the family of MDX sport utilities.
Acura's innovative ZDX will also catch more than a few glances with its sleek leather interior 2+2 coupe styling, crossover SUV features like a power lift gate providing excellent access to the generous cargo bay, backup camera, noise cancellation, a brawny V6 engine and Acura's legendary all-wheel-drive.
New for 2013, but arriving this spring, is the completely redesigned Acura RDX, a mid-sized luxury SUV that will stun buyers with the fuel economy of its V6 engine, delivering better gas mileage than its predecessor's four cylinder. The new RDX is slightly larger and comes with a six-speed automatic transmission.
On the horizon for Acura are two all new models set to debut in 2013. The ILX is aimed at successful Generation Y 20- and 30-somethings geared up for an entry-level luxury sedan. It will offer two 4-cylinder engine options and five-speed automatic or six speed manual transmissions.
The poster car of the line-up will be the image car NSX, bringing joy to the hearts of owners who have waited two decades for the reintroduction of this model. The ultra-high performance vehicle will feature hybrid power and all-wheel-drive.
See the future today. Visit Harmony Accura at 2552 Enterprise Way in Kelowna. www.harmonyacura.com