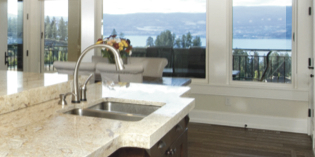 Focusing on the custom home and renovation industry, Loney Plumbing strive to be the best at plumbing and radiant floor heating.
Offering a full range of custom plumbing, Loney Plumbing is particularly proud of their work in the boiler and radiant heating division. When customers spend hard earned money on an elaborate radiant floor heating system they deserve a nice, neat installation. They also troubleshoot and repair existing systems, along with repairing and servicing boilers and water heaters. They are Okanagan Service Specialists in Navien tankless water heaters.

From a small one-man part-time operation in 1995, Loney Plumbing have grown to eight employees and four trucks. Whether you need service in an older home or full installation in a potential Tommie Award winner, our motto remains the same, Quality Above All. Our true success comes from happy customers who recommend us to their friends.
Find out more at www.loneyplumbingkelowna.com.