Ricardo Scebba says taste is a matter of honour—honouring the lessons taught to him by his mother
The tradition of great Italian food in the New World goes right back to Columbus, but for Ricardo Scebba it's a family affair. His mom, Concetta, taught him the basics and inspired his love for the Mediterranean fare that he serves at Ricardo's Mediterranean Kitchen in Lake Country. She and his dad, Guiseppe, contribute to the quality of that fare by growing his herbs and helping in the kitchen.
Awards: Best Chef, Best Restaurant 2013
What is your culinary philosophy?
RS (Ricardo Scebba): The most important lesson I learned from my mother was that above everything else, it's got to taste good. The key to good taste is using the best ingredients and those dictate the daily feature. This is especially true for the growing season when I use strictly local produce in my cooking.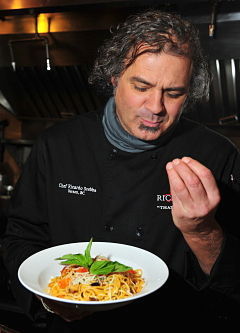 Where do you source the produce?
RS: I spend two days a week going to the local farmers'
markets. The main ones I hit are Kelowna and Vernon. There is lots of excellent produce during the season, but that only lasts from May until October. We have a cool place to store stuff so we stock up on root vegetables and fruit, like apples, that will last. The rest of the time I buy quality imported products from Italy.
RS: Most of our cheese comes from Italy, but we do use local goat cheeses that I find in the farmers' markets. I also go to the Mediterranean Market in Kelowna for some of my cheese and meat.
Where else do you source meat?
RS: I get a lot of stuff from North Okanagan Game Meats in Enderby. That includes our pork and lamb. And all our beef comes from different suppliers throughout the Valley. Of course with things like fish we have to go outside the Okanagan, but our halibut and salmon comes from the closest spots on the coast so they're fresh. Our duck for the duck confit that we have on the menu comes from a farm in Delta.
How about the mushrooms?
RS: We've got a few local pickers who bring me chanterelles and lobster mushrooms. They grow really well around here, especially after an area has been burned over. We dry some of them right here in the restaurant.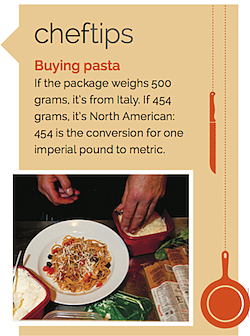 Any tips on equipment?
RS: High heat spatulas. They're expensive, about $15, but they're the last spatula you'll ever buy. They can take up to 700° without melting and they don't transfer heat through the handle as badly as the less expensive ones you get in the grocery store. I get them at Canadian Restaurant Supply in Kelowna. They're open to the public. 
How did you get to the Okanagan?
RS: During high school I apprenticed in a number of kitchens in Montreal. After graduating in restaurant management from St. Clair College in Windsor, Ontario, I moved to Toronto in 1981. In the early 1990s I decided to take a chance on the west and spent a decade in Vancouver. When we made the move to the Okanagan, we opened Ricardo's Mediterranean Kitchen in Lake Country.
Photos by Bruce Kemp.