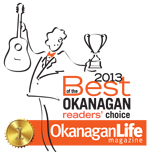 Live the Okanagan dream. Fawdry Homes (voted Best Residential Builder) builds spectacular custom homes throughout the Central Okanagan. They have been chosen as one of the select builders in the breathtaking developments of High Point, Sheerwater, Woodland Hills, Gallagher's Canyon and Wilden, in the beautiful Glenmore Highlands, where you'll find Fawdry's exquisite showhome.
Glenn Fawdry is a certified residential builder and has been rated a Master Builder, which is the highest level attainable from the former New Home Warranty Program. With over 35 years experience, Fawdry's commitment to the finest quality craftsmanship has been recognized with 40 housing awards.
Fawdry believes that the success of any custom building project rests on a strong foundation of trust and good communications between client and builder. It's all about relationships. "Listen loudly and speak quietly," says Fawdry. "You have to listen with care to your customer's needs and wishes in order to build their dream home."
He also maintains a respectful concern for the environment when building. Energy efficiency and indoor air quality have always been a priority for Fawdry Homes, which built the first R-2000 home in this Okanagan area in 1984.
Understanding the need to build energy efficient homes that offers both beauty and quality, Glenn Fawdry and his associates continue to stay current on the latest technologies, including optional energy sources.
Visit Fawdry Homes online at www.fawdryhomes.ca or better still, drop by their stunning showhome located at 143 Skyland Drive. Showhome hours are 1 p.m. to 5 p.m. Saturday through Thursday.
With excellent craftsmanship evident in every detail of their custom home, its obvious why Fawdry Homes has won 40 housing awards.