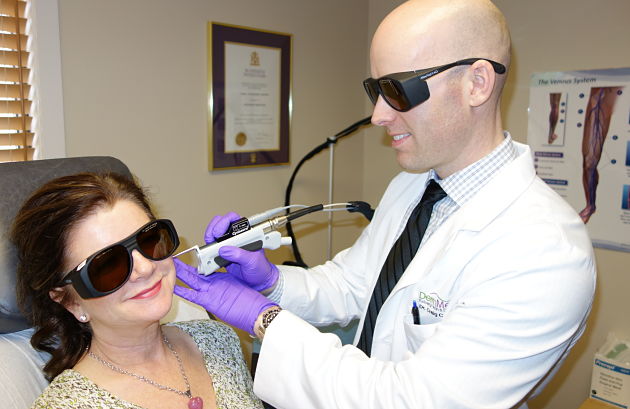 A lot can happen in twenty-one years. Twenty-one years ago, the BC Junior Hockey League Interior Championship was taken by the Kelowna Spartans; OJ Simpson surprised the world with his infamous car chase; and gas cost us an (at the time, startling) 50 cents a litre. There is no question that 1994 was an exciting year, and it was also the year that the Kelowna Vein Clinic and Laser Centre first opened on Tutt Street in Kelowna. Fast forward twenty years, and the Kelowna Vein Clinic and Laser Centre has changed just as much as the rest of the world. Now called DermMedica, the practice has developed in many ways, including through a move from its old location to a new one right in downtown Kelowna.
For the last six years, DermMedica has had Dr. Craig Crippen at the helm. Dr. Crippen has bolstered the clinic's reputation and utility to the community by pioneering and adapting some of the most exciting new treatments available. A family physician by trade, Dr. Crippen chose to devote his time to medical as well as cosmetic vein and skincare treatments for the people of the Okanagan. With degrees from the University of Ottawa, the University of Western Ontario, the University of Manitoba and Cardiff University in Wales, Dr. Crippen's extensive training shows in his meticulous work and his dedication to his practice and patients.
"Something that sets DermMedica apart from other BC skincare clinics is that it is a true medical facility," notes Dr. Crippen, who is licensed by the College of Physicians and Surgeons of British Columbia. Dr. Crippen has achieved a significant amount of additional expertise in the areas of venous disease, laser medicine, aesthetics, and skin cancer. Some of Dr. Crippen's more recent training includes the American Board of Laser Surgery (ABLS) and Primary Care Skin Cancer Surgery (University of Queensland). In addition to this ongoing training, Dr. Crippen also sits on the Dermatology Committee as the BC and Alberta representative at the College of Family Physicians of Canada. This committee was formed to help promote dermatology education for other family physicians across the country.
DermMedica has been at the forefront of many medical innovations over the last few years. This year alone, Dr. Crippen has been advocating the effectiveness of CoolSculpting and the Vbeam laser platform. CoolSculpting is an alternative to liposuction that assists in the removal of stubborn fat pockets on the body. This frees patients from any post-procedure downtime and offers a painless option to get rid of unwanted fat, allowing patients to say goodbye to stubborn "muffin tops" and "love handles" that a proper regime of diet and exercise cannot sufficiently combat. The gold-standard Vbeam laser treats common conditions like visible veins, birthmarks, rosacea and other skin disorders more comfortably than ever before.
Dr. Crippen certainly isn't slowing down on innovative new treatments, and has just recently started Live Well Kelowna, a lifestyle blog which is aimed to get more people in Kelowna interested in their overall health and skincare by offering tips, tricks, and resources.
You can visit the new blog at www.DermMedica.ca/lifestyle, or Dr. Crippen at his conveniently-located clinic at 1626 Richter Street, suite #200, in Kelowna. New patient appointments and consultations are always welcome.
[downloads ids="128429″]