Celebrating 150: O'Keefe Ranch presents "Canada's Wild West" Cowboy Dinner Show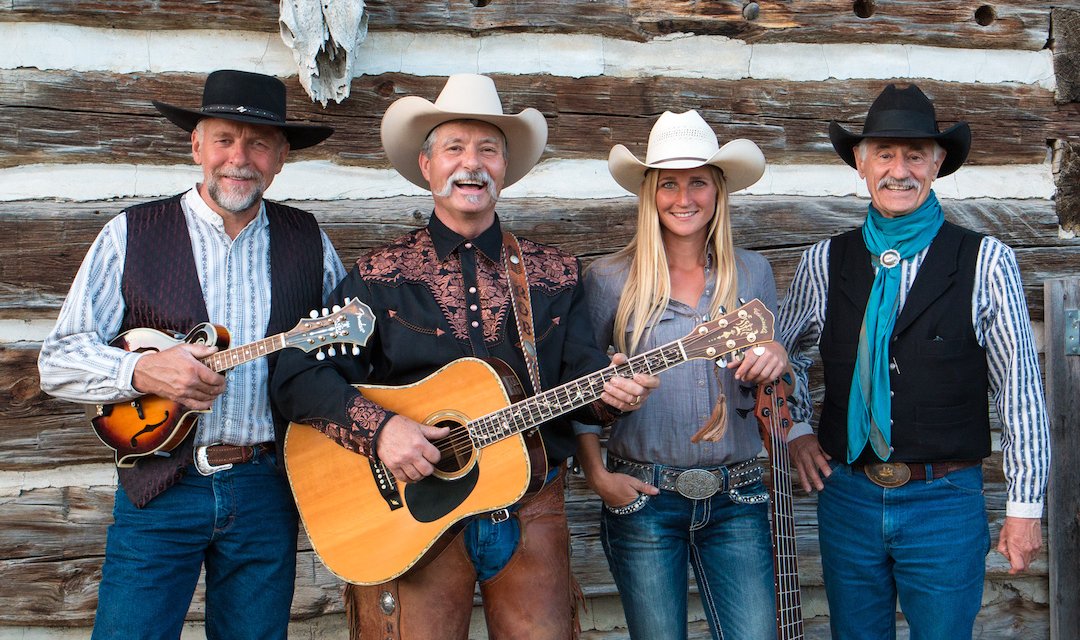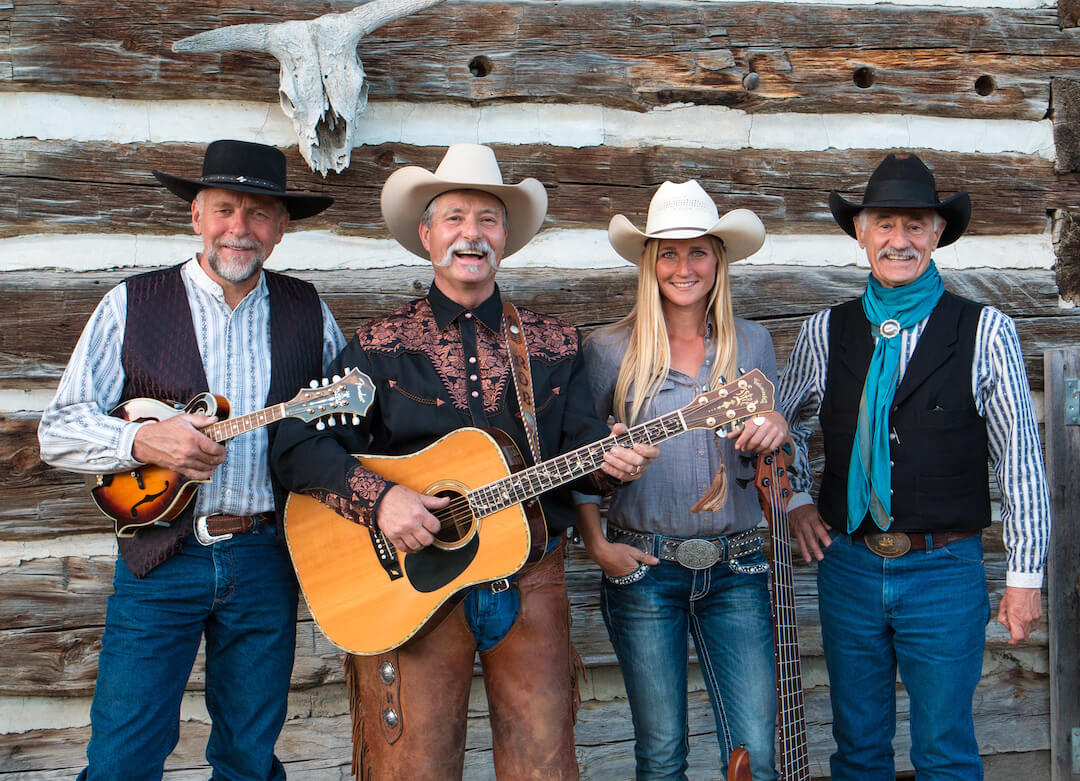 The Cowboy Dinner Show is back for its 9th season at the O'Keefe Ranch as, this year, Canada and The O'Keefe Ranch both celebrate 150 years in existence.
The show will take guests back to Canada's Wild West and Rob Dinwoodie and his western musical trio "Open Range" will capture the image of the cowboy in song and story, while the ever popular Ken Mather, historian, author and cowboy poet, will recollect the exciting events leading up to the establishment of the Historic O'Keefe Ranch. (Top photo: Ken Mather, Rob Dinwoodie, Dixon Zalit, Julia Zalit)
"What do cowboys, gold, railways, bandits and Mounties have to do with celebrating a birthday?  These were just a few milestones that formed our province and the great nation we live in, and we'll touch on these topics in the show," says Dinwoodie.
This year, stories will be told of both the events and characters that were prominent in the development of Western Canada and BC. With the 150th anniversary of O'Keefe Ranch occurring just before Canada's 150th, stories and songs will retell how wild this part of the world really was in 1867.
"Cornelius O'Keefe was not only a rancher but was the first Post Master in the Okanagan, and little known fact, the first cattle to enter Alberta were actually from British Columbia," adds Diwoodie.
These are glimpses of some of the history that will be shared at the show. A dramatic presentation of some historic figures will be portrayed by Jason and Christian Armstrong, who mix both humour and authenticity to the evening. The show will portray the historical drama that occurred in both the making of BC and the nation of Canada in this exciting and entertaining show.
A highlight for guests is to ride in the horse drawn BC Express stagecoach. It's a replica of the stagecoaches that travelled the Cariboo road during BC's gold rush days. Guests can also try their hand at roping, as Rob teaches this fine art, after which there is a fun competition for the honor of top roping cowpuncher.
The O'Keefe Ranch pavilion used for the Cowboy Dinner Show has recently been expanded and can now accommodate more guests.  A new stage and seating arrangement will ensure there isn't a bad seat in the house.
Dinwoodie is in the process of finishing a new recording of songs that will be part of the Cowboy Dinner Show. His passion for the west began 25 years ago, when he first told the historic story of the cowboy in song to bus tours. Since then he and his band, which this year includes Dixon Zalit and his daughter Julia, have taken these songs to new musical levels.
During the show guests will enjoy a cowboy feast of sizzling steaks with all the trimmings served up by Cattlemen's Club Restaurant, voted Best Steak and Best Buffet in Okanagan Life's 2017 Best Restaurant awards. The evening will conclude under the stars singing songs around a cowboy campfire. This evening promises to be one that the whole family will enjoy and take with them as the highlight of the summer.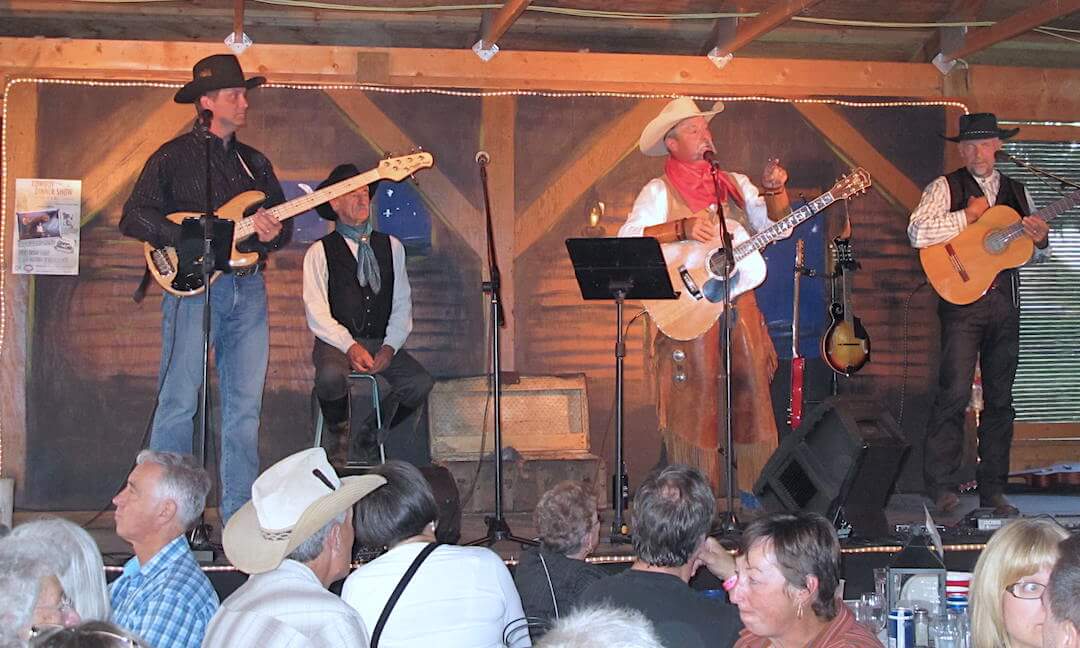 The Cowboy Dinner Show runs every Friday night from July 7 to September 1. Doors open at 5:00 pm, stagecoach rides and roping practice take place before dinner which is served at 6:30 pm during the show, and campfire singalong is from 8-9:00 pm. This is a family friendly show. Tickets are $52.45 for adults, $37.75 for children 12 and under. Cash bar available. To purchase tickets visit www.okeeferanch.ca/tours-events/calendar or call the O'Keefe Ranch at 250-542-7868.
The O'Keefe Ranch is open May 6 – October 1, 2017, and is located at 9380 Hwy 97N, Vernon. Hours of operation: open 7 days a week, 10:00am – 5:00pm (6:00pm in July and August). For more information visit www.okeeferanch.ca
The O'Keefe Ranch tells the story of early BC Ranching and endeavors to preserve the history and culture of the early ranching era for future generations.