The colourful mural of flowers will draw you in. This favourite spot along Bernard Avenue in downtown Kelowna is affectionately known by locals as 'the Boh.'
Offering breakfast and lunch in a funky and homey setting, their menu features some of the best, fresh local ingredients the area has to offer. Founded in 1991 by a brother-sister duo, the family-run business takes inspiration from family recipes and a love for home-cooked meals.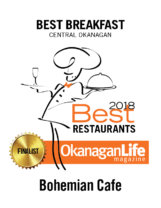 Originally known as the Bohemian Bagel Co., they take great pride in their homemade baked goods. Bagels and organic bread are baked in-house daily and are always a breakfast favourite. Year after the year, the Boh tops the list of Best Breakfast in Okanagan Life Magazine Best Restaurant awards.
Offering private rentals Mondays, Tuesdays and evenings, they also cater off-site with the perfect flavours to match any occasion, from a small luncheon of 5 to large events up to 3,000.
The Bohemian Café & Catering Company is open Wednesday to Sunday. Soak in the sun on their patio at 524 Bernard Avenue.
See the menu at bohemiancater.com.