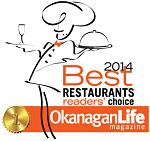 Chef Steve Kooijman
Friesen's Countrytyme Restaurant and Bakery
If you're looking for a great breakfast at the north end of the Valley, in an interesting dining room overlooking the farm that grows most of the food on the table, give Friesen's Countrytyme Restaurant and Bakery a try.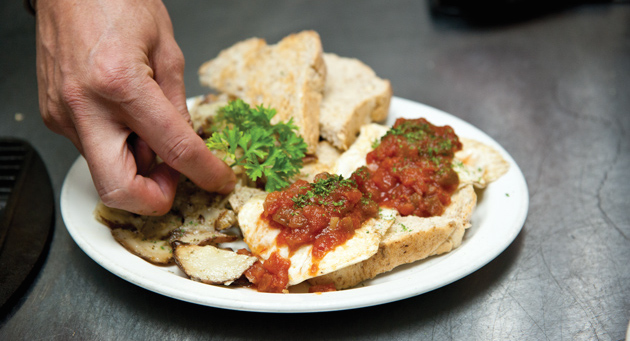 After a career that included riding the rails as a BC Rail chef and a stint as the executive sous-chef at Harrison Hot Springs, Steve Kooijman recently returned to the Okanagan to run his own restaurant. Last April, he and his wife took over the kitchen and retail outlet of 18-year-old Friesen's Countrytyme Restaurant and Bakery in Coldstream, on the farm run by generations of Friesens.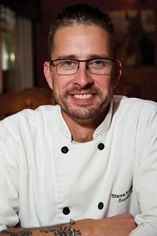 Under their agreement, governed by the Agricultural Land Reserve, the Kooijmans must purchase a large percentage of the produce grown by the Friesen family and the food products made by them. Most of the preserves on the retail shelves are canned by the Friesens. But the five acre farm can't provide everything the restaurant uses so they source as much of their produce as possible from other local purveyors.
"We make about 90 per cent of everything we sell here in the restaurant and store, but I guess our signature breakfast dish would be the eggs Benedict. Everybody makes eggs benny, but the real difference with ours is that we serve them on homemade biscuits that we bake in our in-house bakery."
Aside from breakfast, one of the first things Steve did was to develop a line of baking and takeaway meals like cabbage rolls and shepherd's pie that his customers can pick up at the restaurant, located on Kalamalka Road in Coldstream. At this time of year he's also offering hot soups like borscht to take home. With their first season barely under their belt, the Kooijmans plan to move into catering and evening meals as well as expanding the retail operation.
[downloads ids="125250,120272″]