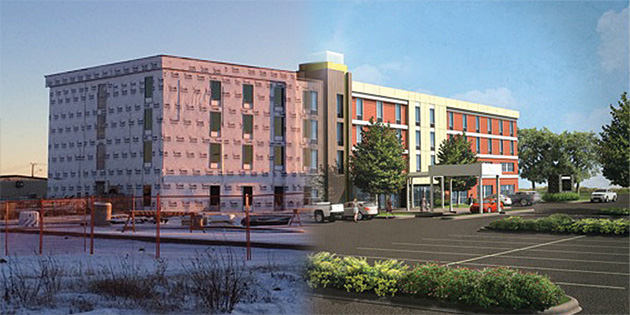 Innovation, quality, service and outstanding people set Argus Properties apart as a business leader in the Okanagan Valley. This full service real estate development company is dedicated to providing personal attention to client needs, whether that be built-to-suit, leasing space, property management, renovations or maintenance. Clients like FedEx, Starbucks, Coca Cola, Alpine Aerotech and SW Audio demand the best and they've found it in Argus.
Among the reasons for this trust is the determination within the Argus team to create synergy with their clients and it extends beyond the pure business basics to a true sense of commitment to community. This company doesn't just construct buildings, it believes in active corporate citizenship.
As a Kelowna-based company, Argus is proud of local successes like its award-winning Four Points by Sheraton at the airport and its recently acquired Hotel Eldorado. New on the horizon is the Home2 Suites by Hilton in Fort St. John, gateway to the Site C dam, which will bring 4,000 workers and their families to the region. The Hilton Home2 is a 90-room property offering studio and one-bedroom suites designed for extended stay with an amazing array of amenities. To learn more about how Argus Properties can meet your needs, visit www.argusproperties.ca.
PROMOTION
Published annually, Okanagan Life Progress presents
Okanagan Valley business stories told by the people behind them.
For advertising details, see Share Your Story of Progress.
As seen in:
[downloads id="134199″ column="1″]