From passion to profit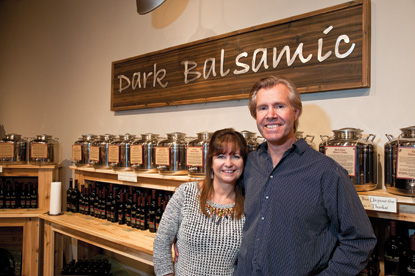 Some passions work out. But it takes hard work and total dedication. Ray Morin and Janet Cody (pictured), own and operate Olive Us Oil and Vinegar Tasting Room in Vernon and Lake Country. It's an independent, family-owned business based on their passion for extra virgin olive oil and the sweeter tastes of balsamic vinegar.
Although the food industry and their product is a passion for them, they've taken the approach that it is a business. Ray, who is a carpenter by trade, did most of the work remodeling the interiors of their stores. They both split their time between Vernon and Lake Country and have brought their daughter, Bailey, into the business to help out and to cut overheads.
"I guess staffing is one of our biggest headaches. We have two employees and could use more, but that's what the business allows us to have. For Janet and I, our investment is our sweat equity and that's what's going to make it work."
Sharleen McBain has been in business as a hair stylist and the owner of Secret Hair Affair on Ellis Street in downtown Kelowna for nine years. She was teaching at Marvel Beauty College when she was laid off. With a sound knowledge of the trade and the business, Sharleen took the big step, with the help of the Community Futures program, of opening her own shop.
She has two employees styling hair and a good clientele, but it hasn't been easy. Sharleen faces stiff competition from stylists who keep overheads low by operating out of their homes. "The difference," she says, "is made up for by the quality of our cuts, a broader range of beauty services and better environment for clients to enjoy."
Creative services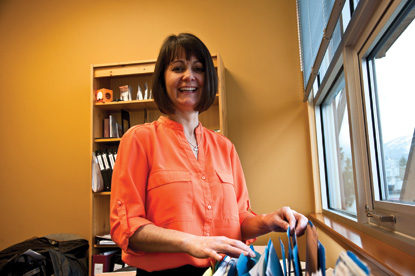 Not all businesses are based on their aesthetic appeal or making the client look good. Some, like Penticton's Linda Andersson (pictured) and Steve Jasper offer indispensable services.
Linda makes life simpler for people by helping them organize their offices and homes. Originally based in Kelowna, she moved to Penticton for personal reasons. In Kelowna her clientele was more involved with business operations. Her company, Organizing Help, established ergonomic systems and more efficient filing architecture to streamline corporate output. However, that all changed when she moved to Penticton and discovered she was dealing in a substantially different market. There the demand was to help private individuals make the move from their home to retirement resort communities or care facilities. They had to downsize their possessions, but found it difficult because of emotional attachments. Organizing Help as a business was flexible enough to read the market correctly and change its corporate personality to suit the needs.
Jasper came into the Valley just recently from the industrial world. His profession is environmental engineering and he has worked for some of the biggest names in the business advising on different projects including pipelines from Alberta to the Coast. Steve and his wife visited the Okanagan on a week long trip and by the end of it had bought a house in Naramata. For him, this new company (so new his website was only two weeks old when we spoke) is a retirement job. Like a lot of people he views himself as too young to fully retire.
To get things up and running, he joined the chamber of commerce because he doesn't have a lot of contacts locally. He sees three advantages to joining the Chamber: "…it's good for networking; for learning the local business culture; and getting the word out about my new business."
Jasper's knowledge is his product and it isn't affected by his age. Right now he's trying to find and connect with other small environmental businesses so he can learn from the successful local and regional guys, but there aren't a lot of local businesses doing similar things. In the end, he views his role as a consultant on environmental issues to corporate entities and First Nations councils who need accurate information for the decisions they will have to undertake.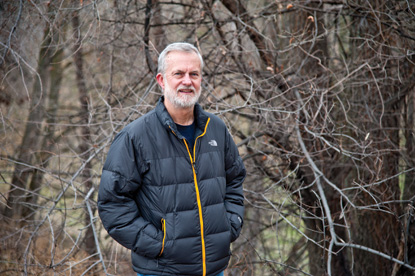 Steve Jasper (pictured) is correct in thinking that knowledge has a great deal of value, and he is also correct in understanding that small business requires a concerted effort at networking and marketing to make it a success. No one knows that better that Jack Borden who owns and operates Coldstream Meadows, a retirement resort community in Vernon.
Borden has been involved in small business for most of his life, coming to Vernon in 1997 where he opened Westwood Electric. He understands the difficulties in learning how to be an entrepreneur. Most everyone we talked to for this story agrees that there are good technical and business management programs being offered through UBCO and Okanagan College, but there is little in the way of entrepreneurial training.
"People coming into small business need to know more than how to make a product or create a service," says Borden. "They have to know how to avoid the pitfalls and traps that can often come out of nowhere to sink your business, but they also have to know the rewards that are possible."
In light of this, Borden has written two books to help steer new business people away from dangerous shoals and to encourage them to write a good business plan they can follow: Avoid Small Business Hell and Faster, Cheaper, Better—How to Start and Operate a Business in the Trades, both from Self-Counsel Press.
Photos by Bruce Kemp
---
As seen in: