Small Shop Saturday
When:
2015-04-25T00:00:00-07:00
2015-04-26T00:00:00-07:00
Show big love for small shops and support local!
Downtown Kelowna Small Shop Saturday is back on April 25, 2015 to celebrate that small business is a big deal and giving you a chance to win $250 to spend Downtown. Do some shopping. Watch cool demonstrations. Win prizes. Meet new friends at a restaurant. And don't forget to say hello to the nice people inside these businesses. They like to chat. The weather is a nice ice-breaker. Maybe compliment their outfit.
Don't miss the free Downtown Kelowna Small Shop Fashion Shows at the Rotary Centre for the Arts (421 Cawston Ave.). First show starts at 1pm, second show at 2pm. Come to one or both. There will be door prizes, too! Thanks DejaVu Model Management for helping us put together these great shows.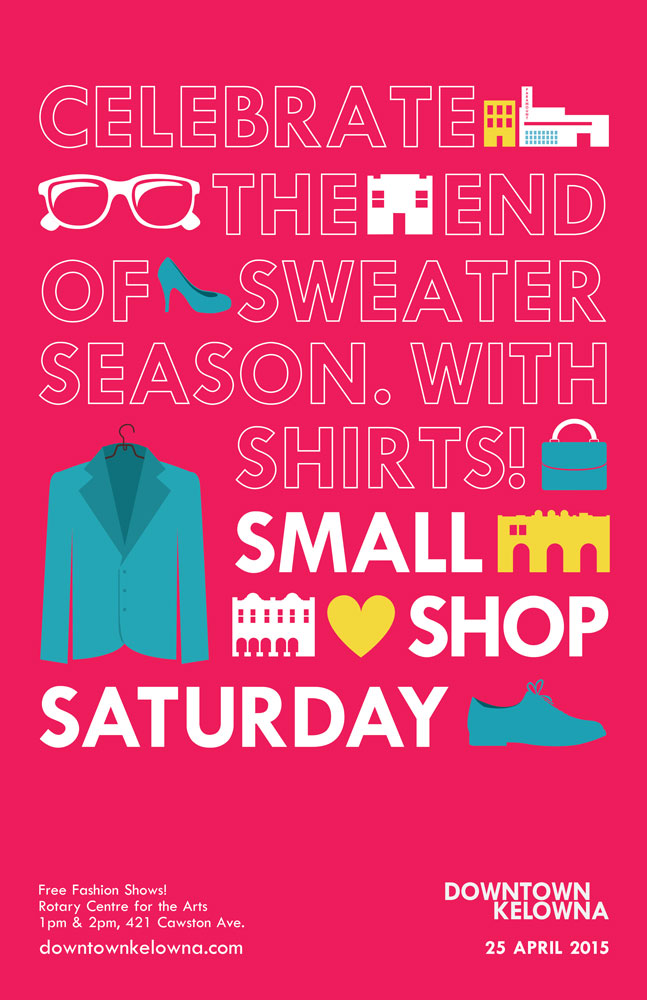 The City of Kelowna will sweeten the deal with free parking on the street and in the two parkades (Library & Chapman). That's over 2,000 parking stalls so there'll be a free spot with your name written all over it. Unless you drive a lot of cars all at once. Like 100 or something. Which would be weird and impressive at the same time.