CBC's Robert "Lucky" Budd Signing This Saturday
When:
June 13, 2015 @ 1:00 pm – 3:00 pm
2015-06-13T13:00:00-07:00
2015-06-13T15:00:00-07:00
Where:
Mosaic Books
411 Bernard Avenue
Kelowna, BC V1Y 6N8
Canada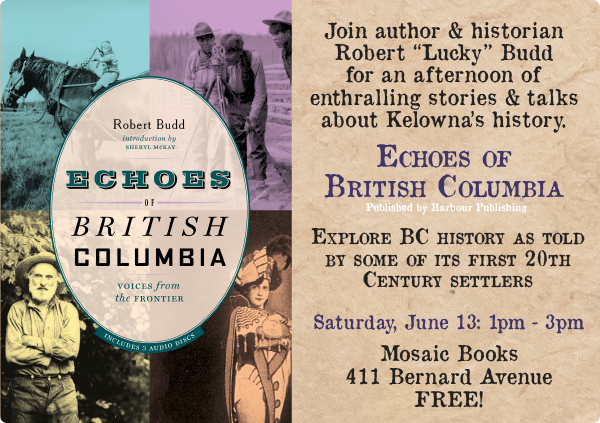 In a follow-up to his well-received Voices of British Columbia, Robert Budd returns with more captivating tales of the province's pioneering past in the very words of the people who lived them.
Between 1959 and 1966, the late CBC Radio journalist Imbert Orchard travelled across British Columbia with recording engineer Ian Stephen, conducting interviews with some of the province's most remarkable and inspiring pioneers. The resulting collection contained 998 conversations totaling 2,700 hours of material--one of the largest oral history collections in the world and a precious treasury of western heritage.
In Echoes of British Columbia, author Budd skillfully renders some of the most entertaining and astonishing accounts from the Orchard collection into entrancing prose. There are tales about rawhiding to the Klondike; being rescued by the legendary Chief Capoose; of riding and racing horses standing up; of homesteading, birth and murder. You'll meet Pattie Halsam, who grew up at remote Cape Beale Lighthouse and travelled to Victoria by canoe. You'll laugh and cry with Bob Gamman as he transports a frozen corpse via wicker laundry basket and tugboat. You'll thrill to Thomas Bullman's eyewitness account of the siege of the murderous McLean Gang's cabin in Douglas Lake. Combining text, archival photographs and original sound recordings on three CDs, this collection brings the reader (and listener) in intimate contact with British Columbia's past, deepening our understanding of the characters and events that shaped the province.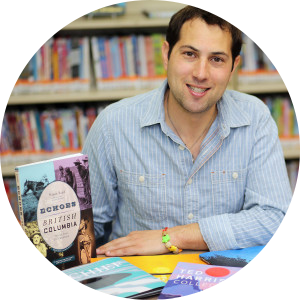 Rob "Lucky" Budd graduated from the University of Victoria in 2005, earning a Master's Degree in History with a focus on oral history. Between 2000 and 2004 the CBC and the Royal British Columbia Museum entrusted Rob with the preservation and restoration of the "Orchard Collection", one of the world's largest oral history collections. He has since worked with a number of private collections and high profile clients including the Okanagan Indian Band, the Provincial Archives of B.C. and the Neskonlith Indian Band. He has given talks on oral history across the country and has had seven books published, five of which are national bestsellers. His books have been nominated for 8 awards including the Lieutenant-Governor of British Columbia's Historical Writing Award.
For more information about Lucky and his works, check out his website here: memoriestomemoirs.ca