Folk music tour: Ellen Froese & Derek Curtis
When:
September 21, 2017 @ 9:00 pm
2017-09-21T21:00:00-07:00
2017-09-21T21:15:00-07:00
Where:
Barley Station brew Pub
20 Shuswap St N
Salmon Arm, BC V1E 2R3
Canada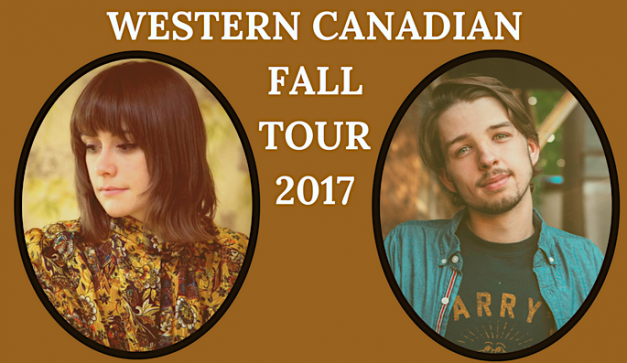 Coming together over the Canadian Border, Ellen Froese and Derek Curtis will be touring across Western Canada and playing their folk music from Saskatchewan through British Columbia. With Ellen hailing from Saskatoon and Derek from Nashville, this co-national tour will be full of songs and stories of two young minds. Both artist are coming out with their first albums this year and will be playing those songs plus ones from their other works.
Hailing from a dairy farm in Saskatchewan, young hip-swinger-folk-singer Ellen Froese is not Joan Baez or a sheep, but the vibrato in her voice may tell otherwise. As both a solo folk artist and a member of the bluegrass/folk group In With The Old, there is no doubt that Ellen is a busy bee as she balances the multiple performances and projects of her two artistic endeavours.
Whether performing a traditional tune or a freshly penned original, the multi-instrumentalist does it with an air of authenticity – all empered with a healthy dose of self-deprecation.
Ellen will be releasing her second solo album in September 2017, followed by a tour of Western Canada.
Website: www.ellenfroesekooijenga.com
YouTube: https://www.youtube.com/channel/UCNCYgywHDsoPTAlRjE4mXnA
Facebook: https://www.facebook.com/ellenfroesek/
Soundcloud: https://soundcloud.com/ellenfroese
Originally from the heart of New England in northeastern United States, Derek Curtis first fell in love with the folk music of Greenwich Village from the 60's of New York City. For the past 6 years now, he has been based out of Nashville TN playing in the home of country music. As a student of american songwriting, his sound now blends the folky songwriting with the tradtional country and bluegrass styles he's come to learn.
His newly released debut album "Carpetbagger" is the retrospective of time in both the north and south and which side he now calls home.
https://open.spotify.com/album/3GGC5TVFbjf3MnDTfCllWX
Website: www.derekwcurtis.com
YouTube: https://www.youtube.com/channel/UCYemWfIz2s96MIPAWd76OqA
Facebook: https://www.facebook.com/derekwcurtis/
Soundcloud: https://soundcloud.com/derekwcurtis