Community panic celebrates farmers, family and the harvest
When:
September 18, 2016 @ 11:00 am – 4:00 pm
2016-09-18T11:00:00-07:00
2016-09-18T16:00:00-07:00
Where:
Eastwood Organics Farm
2995 Dunster Rd
Kelowna, BC V1W 4H4
Canada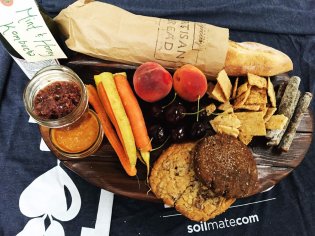 Soil Mate, an online platform that harnesses the power of the web and social media to connect local communities with their local farmers, raisers and producers, is holding its second annual Soil Mate Family Picnic, supported by Valley First. Soil Mate and Valley First invites the local community to join in celebrating the end of harvest season and giving thanks to our local farmers.
"Our first ever picnic last year was a great success, and we have built on that to make this one even better" said Matt Gomez, founder of Soil Mate. "There are quite a few layers to this event. One intent is to celebrate our local farmers and the harvest season, thanking them for feeding our families, but just as importantly it is granting our whole community access to a farm, our farmers, and information and resources for them to access more local food and drink options. We'll even teach you how to can vegetables and make kombucha."
The event is a 'bring your own picnic'. If you don't fancy making your own though, you can pre-purchase a locally sourced basket from the event's webpage. The picnic is held at the beautiful Eastwood Organics Farm, ten minutes from Orchard Park Mall. Aside from the picnic, which will be held in the farms orchard, there will be a wide variety of games, activities and local musicians playing. There will also be a variety of nutritionists and chefs putting on free workshops on kombucha making, as well as canning and preserving.
"There are many great events in the Okanagan aimed at the farm to table and wine audience, But they are not always accessible for everyone in our community" says Gomez. "This event is completely free, and focused on getting anyone interested in local food, health and access to food together to just have some fun at the farm. We made it a 'bring your own picnic' so everyone can enjoy the event in whatever way they choose. It's just an excuse to get out on a nice fall day, see a farm, meet some farmers, access resources, listen to some music and have some fun."
Despite being named a 'Family Picnic', the term is used to describe the community as a family and everyone is welcome; young and old, single and couples, kids and no kids. The event, including all workshops and activities is completely free to attend. It is asked that if you have the means, to bring a food item per attendee for donation to the food bank, via 'Feed the Valley'.
Follow the Soil Mate Family Picnic online:
In Kelowna Oct18? BYO picnic to Eastwood Organics Farm for @mysoilmate's #soilmatepicnic!! http://t.co/9ivH75rLLz pic.twitter.com/47FByayRR6

— BC Farmers' Markets (@BCFarmersMarket) October 16, 2015