August: Osage County
When:
2015-05-27T20:00:00-07:00
2015-05-27T20:30:00-07:00
Where:
Kelowna Actors Studio

August: Osage County sponsored by the United Way Central and South Okanagan Similkameen opens at Kelowna Actors Studio May 27 and runs until June 13, 2015. 
"We're so thankful to Actor's Studio for this charitable opportunity," says Shelley Gilmore, Executive Director United Way CSO. "The subject matter of this play is so near and dear to the very issues that United Way supports. With the help of community-minded organizations like KAS, we can all make a difference right here in our community."
The play has the zip and zingy humour of a classic television situation comedy and the absorbing narrative propulsion of a juicy soap opera, too.  Watching it is like sitting at home on a rainy night, greedily devouring two, three, four episodes of your favourite series in a row.  "You will leave the theatre emotionally wrung out and exhausted from laughing, but you may still find yourself hungry for more," says director Margaret Gobie.
Hailed by the New York Times as

"hugely entertaining! A ripsnorter full of blistering, funny dialogue, acid-etched characterizations and scenes of no-holds-barred emotional combat. The fiercely funny and bitingly sad August: Osage County is a turbo-charged tragicomedy that is a feast for actors and audiences alike. It will lift you out of your seat with laughter one moment and stun you into silence the next."
One of the most acclaimed plays of the last decade, August: Osage County won the 2008 Tony Award for Best Play and the Pulitzer Prize for Drama.  Tracy Letts' sprawling saga about three generations of an Oklahoma family has drawn comparisons to the work of American dramatists Eugene O'Neill, Sam Shepard and Tennessee Williams.
When their father goes missing, the completely dysfunctional Weston family reunites and sparks fly. Violet, the take-no-prisoners matriarch, struggles for control over a family set to implode over secrets, lies and betrayls.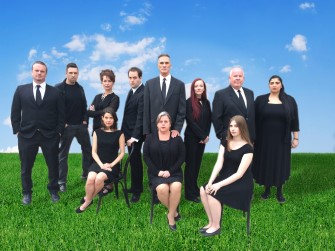 The cast of August: Osage County features Kelowna Actors Studio artists Patricia Burns (Violet Weston), Neil Johnson (Beverly Weston), Tracey Hway (Mattie Fae Aiken), Casey Easton (Bill Fordham), Ron Green (Charlie Aiken), Matthew Brown (Sheriff Deon Gilbeau), Harmony Mir (Johnna Monevata), Josephine Stebbings  (Ivy Weston), Emma Butler (Jean Fordham), Don Plant (Steve Heidebrecht), Ruby Bullock-Spitz (Karen Weston), Michelle Deighton Hussey (Barbara Fordham) and Michael Finlayson (Little Charles Aiken).