Abra Cadabra – A Tribute To The Music and Magic of Abba in Kelowna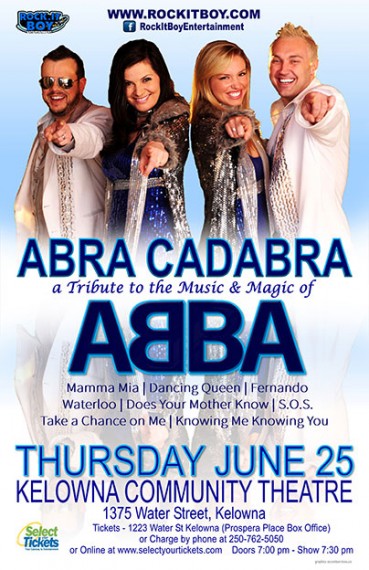 For a decade Abra Cadabra has been bringing the timeless and uplifting music of Abba to audiences across the world. From Mamma Mia, Dancing Queen to Does Your Mother Know, Take a Chance on Me, this high-energy and captivating stage show keeps the music of this Swedish Super Group alive in a fresh, respectful and classy way.
Rather than impersonate the original members of the band, Abra Cadabra prefers to recreate and celebrate the amazing music and legacy of Abba with powerful vocals, outstanding musicians, dancers, costumes and stories about the one and only Abba.
Abra Cadabra takes you on a magical journey through all of your favourite Abba songs & memories. It is a fantastic show that you will not want to miss!