Current Issue
Stop by Mosaic Books in Kelowna to purchase Okanagan Life. Subscribe for home delivery.
Digital Yearly Subscription
Already a subscriber? Login
With a digital subscription, you can enjoy Okanagan Life on your tablet for only 9.90 /year. Paid subscribers will be redirected to our Digital Edition Downloads.

---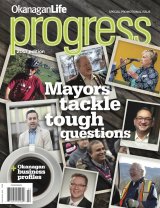 The 2017 Progress magazine celebrates Okanagan business stories. For our cover story, publisher Paul Byrne sat down with Okanagan community leaders to hear how Mayors tackle tough questions. Our Review column, Beware of alligators, offers some contentious thoughts on government and business by writer Bruce Kemp.
See our list of featured Okanagan businesses stories.
Our December issue celebrates the 2016 Best of the Okanagan award winners in the North, Central and South Okanagan. On the cover is the cast of Mary Poppins, performed this summer by the Kelowna Actors Studio, awarded Best Live Performing Arts Group in the Central Okanagan. We're seeing double with writer Patti Shales Lefkos as she delves into BC's multiple births. Wine writer Yvonne Turgeon raises a glass to a vintage year and we're in the kitchen with Chef Jenna Pillon of Hester Creek's Terrafina restaurant.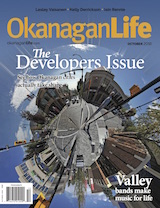 Our October issue features Okanagan developers and urban planners. Learn the who, what and why of shaping our cities for the future. Our wine writer Yvonne Turgeon is underground, exploring the wine caves of the Okanagan and their secret treasures with guest sommelier Helene Scott picking cave-aged favourites. Our Good Neighbours features what's cookin' when Okanagan chefs head to Valley classrooms and our Kitchen Confidential with writer Bruce Kemp features culinary Olympian Chef Iain Rennie from the new Oak + Cru Kitchen & Wine Bar at the Delta Okanagan.
---
Download Hints
For iPad users, we suggested opening your Okanagan Life issue in iBooks or the Adobe Reader app. When you open the email link to the issue, the download will first open in Safari. To save a copy for future reading, tap and use the "Open in" button to save in to your preferred reader.
Archives
See our Archives for more past issues & free downloads.