VOTING CLOSES OCTOBER 15, 2016


Watch for the Nov/December issue of Okanagan Life for a showcase of winners.
Professional
Best Real Estate Company
Best Realtor
Best Accounting Firm
Best Credit Union or Bank
Best Insurance Company
Best Investment Firm
Best Law Firm
Best Mortgage Company
Best Photographer
Best Private School
Health & Wellness
Best Dental Clinic
Best Optical Clinic
Best Chiropractic Clinic
Best Hearing Clinic
Best Medical Clinic
Best Day Spa
Best Hair Salon
Best Laser & Aesthetics
Best Massage/Physical Therapist
Best Naturopathic Clinic
Fashion
Best Women's Fashion Store
Best Men's Fashion Store
Best Children's Clothing
Best Fashion Accessories Store
Best Place to Buy Footwear
Best Jewelry Store
Goods & Services
Most Unique Business
Best Dry Cleaner
Best Place to Buy Gifts
Best Florist
Best Place for Printing
Best Computer Services
Best Travel Agency
Best Toy Store
Best Moving Company
Pet Care
Best Pet Supply Store
Best Veterinary Service
Best Pet Boarding
Home & Decor
Best Home Décor Store
Best Furniture Store
Best Kitchen/Bath Store
Best Custom Window Coverings
Best Art Store/Gallery
Best Garden Centre
Best Pool/Hot Tub/Spa Dealer
Construction
Best Development
Best Residential Builder
Best Renovation Company
Best Custom Cabinetry
Best Paint Contractor
Best Flooring Company
Best Plumbing Contractor
Best Electrical Contractor
Best Landscape Contractor
Best Roofing Company
Best Commercial Builder
Best Architect/Design Firm
Transportation
Best Car Dealer
Best Truck Dealer
Best RV Dealer
Best Boat Dealer
Best Auto Body Repair
Best Auto Maintenance
Best Tire Dealer
Best Car Wash
Leisure & Sports
Best Ski Resort
Best Bike Shop
Best Golf Course
Best Golf Shop
Best Fitness Club
Best Outdoor Sports Gear Store
Best Place for Adrenaline Rush
Best Ski/Snowboard Shop
Best Yoga/Pilates Studio
Entertainment
Best Tourist Attraction/Event
Place to Taste Wines
Best Local Musician/Music Group
Best Live Performing Arts Group
Best Radio/TV Personality
Best Local Writer/Journalist
Best Romantic Weekend Getaway
Best Place to Get Married
Best Family Resort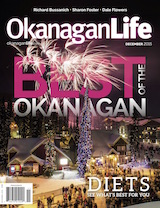 [downloads ids="131696″ thumbnails="false" columns="1″]
---
Rules of Voting
Voting is open to all readers of Okanagan Life. Voting closes on October 15, 2015.
Winners will be awarded for the Thompson/Shuswap, North Okanagan, Central Okanagan and South Okanagan and published in Okanagan Life Magazine.
Only one entry per person. Voters must supply email, name, city and phone number. Email/IP addresses will be filtered for verification.
You will receive an email once you submit your survey. You must click on the link from that email to confirm your entry.
At least 50 per cent of your ballot must be completed.
Nominations of businesses that are not listed on the ballot are welcomed, including Kamloops and area. You can vote for the business of your choice by simply adding it into the "Other" field. Please include business name and city.
If you have questions about the survey, email support or call the office at 250-861-5399.