| | |
| --- | --- |
| | PRINT |
| WEB | GUIDE |
Okanagan Life's Best Restaurants is the most recognized brand in the Okanagan Valley. Reaching evey city, every business and 491,800 readers throughout the Okanagan, Okanagan Life magazine can extend your marketing reach.
Best Restaurants Dining Guide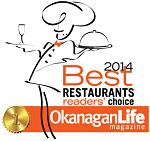 Your feature/ad in our Dining Guide, published in the July issue of Okanagan Life magazine, includes a restaurant photo, logo, address and short restaurant write-up.
Restaurant award winners can take advantage of our print & online marketing packages:
1/2 Page
1/3 Page

$2,310 - 1/2 page feature/ad
$600 - Premium Listing online
$500 - Full page online feature

$1,710 - 1/3 page feature/ad
$600 - Premium Listing online
$500 - Full page online feature

1/4 page
1/6 page

$1,375 - 1/4 page feature/ad
$600 - Premium Listing online
$500 - Full page online feature

$990 - 1/6 page feature/ad
$600 - Premium Listing online

Cube Ad
Guide - Premium Listing

$625 - Cube ad
$600 - Premium Listing online
Call or email Paul 250.861.5399 paul@okanaganlife.com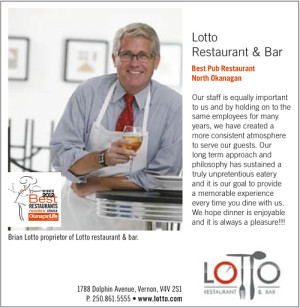 Feature/Ad Samples
1/2 Page Dining Guide ad
1/3 Page Dining Guide ad
1/4 Page Dining Guide ad
1/6 page Dining Guide ad